RICK NEEDHAM'S BETTER BETTOR
---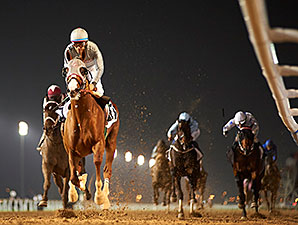 CALIFORNIA CHROME
WINS IN DUBAI - EASILY!
BELMONT PARK (ELMONT, NEW YORK) WEDNESDAY, MAY 4, 2016
NBC Sports Group will present 15 1/2 hours of live coverage of Kentucky Derby week, the network announced May 3. Racing coverage will begin May 5 from Churchill Downs, with the broadcast of four live races beginning at 4 p.m. EDT on NBC Sports Network. On May 6, seven races will be shown live on NBCSN beginning at 12:30 p.m. On May 7, nine races will be broadcast on NBCSN beginning at noon, followed by three live races on NBC beginning at 4 p.m. The NBC show will include the Kentucky Derby. In addition, on May 4 at 5:30 p.m. NBCSN will broadcast the Kentucky Derby post-position draw. A news release from the network called the schedule "the most comprehensive coverage plan in Kentucky Derby history" with more than 50 cameras, including a new 360-degree robotic camera on the infield; a new helmet camera on the outrider; a camera suspended 80-feet high on the Churchill video board structure; a robotic camera in the paddock saddling area, and a camera on announcer Larry Collmus. A jockey, trainer, and owner will be wired-for-sound for final jockey's instructions and post-race reactions. Saturday coverage will include features on Derby favorite Nyquist; a profile of the Keith and Kent Desormeaux, who will team with Exaggerator; Mike Repole, owner of Derby contender Outwork; a visit by Carolyn Manno with American Pharoah at Ashford Stud; and Rutledge Wood's "first Kentucky Derby." NBC Sports Group will present 29 hours of Triple Crown coverage this season from Churchill, Pimlico Race Course, and Belmont Park, including live racing from all three tracks prior to the Triple Crown races. It's the sixth consecutive year that all three Triple Crown races will air on NBC.
RACE #2 - BELMONT PARK - 2:01 PM EASTERN POST
8½ FURLONGS INNER TURF THREE YEAR OLDS $40,000.00 CLAIMING $59,000.00 PURSE

#2 SAKARA
#3 INSIDE STRAIGHT
#9 HOTINTHEHAMPTONS
#4 MAV

#2 SAKARA takes a HUGE class drop (-22) this afternoon, and has produced "POWER RUNS" in each of his last three outings, and his recent past performances sheets show a maiden-breaking win in his 4th race back, which was his his "first asking." Jockey Irad Ortiz Jr. was in his irons for that win, and Ortiz is back this afternoon here at Belmont Park for his 2nd ride, gunning for back-to-back "Circle Trips." #3 INSIDE STRAIGHT takes a class drop (-8), and has produced a trio of "POWER RUNS" in his last five outings, hitting the board in a pair, including a "POWER RUN WIN" facing better company ( 6) in his 3rd race back.
---
RACING NEWS: Dennis and Susan Albaugh announced that if their horse, Brody's Cause, wins the Kentucky Derby May 7 at Churchill Downs, he will donate his share of the purse to the Des Moines Area Community College Foundation. Dennis Albaugh made the announcement during DMACC's 50th Anniversary Gala over the weekend at the Prairie Meadows Conference Center in Altoona, Iowa. "This pledge combines two of my passions, DMACC and horse racing," 1972 DMACC graduate Dennis Albaugh said. "It also offers another opportunity for me to share my successes with the college that started me on my career path many years ago. I wouldn't be where I am today without my DMACC education. I'm proud to say DMACC is my university." Brody's Cause enters the Derby off a victory in the Toyota Blue Grass Stakes (gr. I) April 9 at Keeneland. "I've become a new fan of the Kentucky Derby," DMACC president Rob Denson said. "Dennis and Susan Albaugh have been so generous to the college over the years, and this is another example of their dedication and commitment to their community and students of DMACC. We'll all be cheering for Brody's Cause this weekend." The Albaughs were recognized just last weekend during ribbon-cutting ceremonies for a $1 million donation they made for an addition and remodeling of DMACC's Iowa Culinary Institute on the Ankeny Campus. In addition, Dennis Albaugh is hosting the upcoming DMACC chief executive officer golf tournament June 9 at his Talons of Tuscany golf course in Ankeny where last year the golf event raised $264,000. It has raised $1.2 million over eight years for student scholarships.
---
This Web Site Is --- "POWERED BY TRACKMASTER!"
---
RICK'S HANDICAPPING VIDEOS
THOROUGHBRED RACING
HARNESS RACING
GREYHOUND RACING
NOSTALGIA!
---
RaceAnalyser Software
Wagering Mathematics Software
Rick has added these software products to his handicapping arsenal! They use TrackMaster Past Performance Files! Check 'em out!

RaceAnalyser Thoroughbred Handicapping Software
---
Disclaimer: Every attempt has been made to insure accuracy, however since this report is prepared and typed by hand, errors, including typographical and numerical, can be made. It is the responsibility of the end user to "cross check" these selections against the actual entries and program numbers.
---
BRAZILIAN "BRAHMA BEER LONGSHOTS" - MAY 4, 2016
INDIANA DOWNS
RACE #1: #2 BOGSIDE, a 6-1 shot, takes a BIG class drop(-19), and has nice overall speed for this 6.0 furlong sprint,
EVANGELINE DOWNS
RACE #2: #2 SAINT NO MORE is 4-1 in the morning line, and has hit the board in "POWER RUN FASHION" in five straight, including a "POWER RUN WIN" in his 4th race back.
---
Ultra Longshot Angles
NOTE: The entries listed below have been "found" utilizing TrackMaster's fantastic new product Ultra Angles ... I have utilized this product to scan EVERY TRACK in North America for entries today meeting the following 3 criteria:

a. Odds are AT LEAST 4-1
b. The entry must be the TOP POWER RATED entry in the field
c. The entry must also have the BEST SPEED in this field for today's distance and surface!

Delta Downs - Race #8 - 9:10PM - #3 SHEZA CHICAWA 15/1
Evangeline Downs - Race #4 - 7:11PM - #12 PRIVATE PRAYER 12/1

NOTE: Listed Post Times are given in the local time zone of the track.

CHECK OUT THIS SOFTWARE TO FIND RICK'S "POWER PUPS!"
---
NOTES ON CLASS: The TrackMaster PLUS software uses a sophisticated mathematical formula to calculate the "class" of a particular race. It is important to note that this calculation is NOT based on purse structure, but on the competitive level of the entries in today's field. Therefore, it is possible (and not uncommon), that an entry may be racing for a higher purse today than in his or her last race, but in a "TrackMaster Sense" is dropping in class, because the overall abilities of the entries in today's race are not as competitive as the entries in his or her last race. The TrackMaster class scale is numeric, and basically ranges from 50 to 100, and is particularly helpful in judging entries that are "shipping" in from another track. In my analysis of a race, I often note that an entry is "dropping in class," or "stepping up in class." Following this statement, you will see a (number in parenthesis). The value of that particular number indicates the degree of the class change. EXAMPLE: "#4 SIN CITY takes a fairly significant class drop (-8) this evening." This indicates that this entry is dropping by 8 TrackMaster Class Levels from his or her last race. It does not necessarily mean that this entry is racing for a lower purse, only racing against a less competitive field.
NOTES: I frequently use the term, "POWER RUN" in this column. It is my terminology for a previous race run at a speed, which if duplicated today, should compete for the winner's circle at the class level in which the entry is competing today. Space requirements do not allow for a thorough discussion of this calculation, however, if you would like a short essay on how the "POWER RUN" is calculated, kindly send me some EMAIL at rneedham1@yahoo.com and I'll send you a copy of my "POWER RUN" file.
---
---
2015-2016 ARCHIVED FOOTBALL REPORTS:
Rick Needham's Football Report 2015-2016 Season
Week Ending - February 7, 2016
THE SUPER BOWL
PANTHERS (MINUS 6½) VS. BRONCOS

Sunday, February 7, 2016 at 6:30PM EST
Santa Clara, California - TV: CBS
Over/Under Total: 47.0

Rick's Overview:The Carolina Panthers meet the Denver Broncos in Super Bowl 50 at Levi's Stadium on February 7. It is a matchup of the top two seeds from each conference. Carolina, on the strength of winning 17 of 18 games this season, is the favorite. But a salient case can be made for either team. Let's take a look at Super Bowl 50 and see what we can come up with.

Carolina has been impressive in the postseason, which followed a 15-1 regular season. They smashed two pretty good defenses with wins over Seattle and a 49-15 smashing of Arizona in the NFC Title Game. Since head coach Ron Rivera came into town, Carolina has always been a team with a nasty defense, but they added a lot to their offense this season and were actually the league's top-scoring offense this season. And they've been pretty consistent in terms of scoring, surpassing 31 points in 7 of their last 8 games.

Carolina has a quarterback in Cam Newton who has morphed into perhaps the most legit dual-threat player at that position. Between him and Jonathan Stewart, they run the heck out of the ball. Carolina has a pretty nice aerial attack, despite having only a good tight end in Greg Olsen and a bunch of role guys at wide receiver. This offense gets the most out of what they have, bolstered by a stout and playmaking defense that can have a big impact on the results of games.

Denver has a Hall of Fame quarterback in Peyton Manning who might be facing his last game. He missed a lot of time, but came back in the second half of week 17 to lead Denver past the Chargers, before notching a pair of playoff wins to get to his 4th Super Bowl. This team was in the Bowl two years ago and there's a lot of big-game experience on that sideline. Meanwhile, Carolina's sideline is filled with guys who will be seeing this for the first time.

Denver managed to become a top team in what was really a transitional season, as they moved away from a quarterback-centric approach, putting more responsibility in the hands of the run-game and a defense that became the top-rated unit in the game. On one hand, their offense seemed a lot flatter this season, but the results speak louder than anything, as they're in the Super Bowl. A big assist goes to what is really a good Denver defense that looks to have peaked at the right time.

Carolina faces a major challenge with this Denver defense. And when looking at their schedule, it's not like the Panthers beat a ton of good defenses this season. In the playoffs, Pittsburgh and New England both struggled against this Denver defense. The Denver pass-rush, led by Von Miller, could very well become a major factor in this game. The Denver defense was the top-rated pass-defense and there are numerous matchup issues for Carolina heading into this game.

Carolina was excellent this season at 15-1 and 2-0 in the playoffs. But when something looks too good, we are forced to take a peek around the still and see if we can't find another way of looking at it. Let's look at Carolina away from home for a second. In the last five weeks of the regular season, they had three road games—beating sub-.500 teams like the Saints and the Giants each by a field goal, before losing to Atlanta by 7. We've seen them romp at home in the playoffs as the NFC's top-seed, but let's not forget that things can be different when taking the show on the road and there's ample evidence that Carolina could be a diminished force away from Charlotte.

When a team like Carolina wins 17 of 18 games and covers 13 spreads, it might be hard to make the case that they're overrated. But when scanning their schedule, it is striking how many soft teams they faced. And even the better teams they beat weren't playing very well at the time they met the Panthers. Carolina deserves credit for having only one really bad game the whole season, but there is some variance in how they play at home, as opposed to on the road.

We hear people talk about experience, without really being clear on how that will resonate in a game. With Peyton Manning, the Broncos benefit from having one of the sharpest football minds in the sport actually on the field. His arm isn't what it used to be and there's no guarantee he will even make it through 4 quarters against this hard-hitting and difference-making Panthers' defense. But there is no one better at identifying weaknesses in opposing defenses and in a game of this magnitude, having a calm-thinking veteran like Manning with his off-the-charts football IQ behind center can be invaluable. It's almost like having a coach on the field. Since coming back in week 17, Manning has actually looked pretty good, even more so against New England in his last game, which showed that he might be rounding into shape at just the right time. The time off he had during the season can start paying off now.

Rick's Bottom Line: Well folks ... my "gut" feeling is that this game could be a "blowout" in favor of Carolina .. terms like "overrated" and "underrated" are thrown around a lot, but they might apply to this game. People see Denver barely scraping by with a quarterback on his last legs and it causes them to make rash conclusions about their championship viability. Meanwhile, when the public looks at Carolina, they see a team with a great record, coming off two pretty conclusive postseason victories. It creates an image of Carolina being vastly superior and that might have little or no connection to reality. Not to impugn Carolina, which is a good team in all phases, but I look for the championship mettle, experience, and knowledge of Manning to play a big role in this game, with Denver's better defense keeping Carolina in-check. And, my "computer analysis" using SportsMaster Sofware shows Denver to "keep it close!" I'll TAKE DENVER to beat the spread ... hint ... wait to the last minute folks ... this line may indeed CLIMB UPWARDS ... especially on the off-shore "books!"
---