RICK NEEDHAM'S BETTER BETTOR
---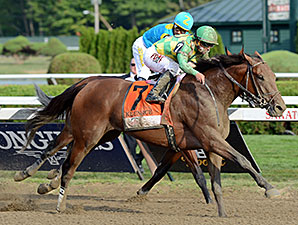 "GRAVEYARD OF FAVORITES" ADDS ANOTHER VICTIM!
KEEN ICE UPSETS AMERICAN PHARAOH AT SARATOGA!
---
2015-2016 FOOTBALL IS BACK!!!- SCROLL DOWNWARDS TO RICK'S "SPORT SECTION" FOR DETAILS - TOTALLY FREE UNTIL COLLEGE "PLAYOFFS" BEGIN! ... UPDATE ... RICK'S LATEST ANALYSIS OF COLLEGE AND PROFESSIONAL FOOTBALL WAS EMAILED TO HIS "SUBSCRIBERS" ON THURSDAY AFTERNOON (10/8/2015)!
BELMONT PARK (ELMONT, NEW YORK) FRIDAY, OCTOBER 9, 2015
NBC Sports Group's viewership for the "Breeders' Cup Challenge Series: Win and You're In—Presented by Lane's End Farm" jumped 136% year over year for the nine telecasts after American Pharoah's historic Triple Crown victory in the Belmont Stakes (gr. I), according to national data released by The Nielsen Company. Collectively, NBC and NBCSN averaged 936,000 viewers for nine shows from June 13-Oct. 4, up 136% from last year's Breeders' Cup Challenge Series (397,000 average). In addition, viewers streamed 383,000 live horse racing minutes via NBC Sports Live Extra, up 315% from last year's series (92,000 minutes). The series included American Pharoah's victory in the William Hill Haskell Invitational (gr. I) at Monmouth Park and his runner-up finish in the ravers Stakes (gr. I) at Saratoga Race Course.
RACE #3 - BELMONT PARK - 2:01 PM EASTERN POST
8½ FURLONGS INNER TURF FILLIES AND MARES THREE YEARS OLD AND UPWARD STARTER ALLOWANCE $55,000.00 PURSE

#6 KHALEESI KAT
#4 ANGEL CHOIR
#5 TIZALLHEART
#3 MODUS OPERANDI

#6 KHALEESI KAT has hit the board in "POWER RUN FASHION" in both of her last two outings, including a "POWER RUN WIN" to break her maiden in her 2nd race back. Jockey Junior Alvarado and Trainer Bill Mott send her to the starting gate this afternoon ... they've hit the board with half of their entries saddled as a team to date. #4 ANGEL CHOIR, the morning line favorite ... is the overall speed leader in this field racing at, or about, today's distance of 8½ furlongs on the turf, and has hit the board in three of her last five outings overall, including a "POWER RUN WIN" to break her maiden in her last start.
---
RACING NEWS: Buoyed by larger fields and increased purses, daily average handle increased 10.7% at the 70-day Emerald Downs meet that concluded Sept. 27. Average field size also rose, going from 6.28 horses in 2014 to 6.82 in 2015, according to The Jockey Club Information Systems, and the Washington state track reported an on-track horse population of more than 1,000 for the first time in three years. TJCIS reported average daily purse distribution of $120,937 for this year's meet, compared with $96,403 a year ago. Last winter Emerald Downs announced a 20% purse increase for lower-level claiming races and also added several incentives to lower costs for horsemen. These enhancements resulted in several first-time Emerald Downs' trainers, with the biggest influx coming from Turf Paradise in Arizona, the track said in a release. Average total daily handle was $1,262,956, with a high of $2,421,017 for Longacres Mile Day on August 16. According to a release, Emerald Downs' brand also grew substantially, with a 16% increase in selling of its races in 2015. First-year Emerald Downs president Phil Ziegler credited the successful meet to the track's track founder Ron Crockett, and the continued commitment from the Muckleshoot Indian Tribe, who officially acquired the track in March and have enhanced purses the last 12 seasons. "The success we experienced this season would not have been possible without the support of our track founder Ron Crockett who continues to play a integral role at Emerald Downs, and the Muckleshoot Tribe who own our company and have invested over $13 million in purses since 2004," Ziegler said. Stryker Phd, who won four stakes races and became the first horse to win the Longacres Mile twice at Emerald Downs, repeated as horse of the meeting.
---
This Web Site Is --- "POWERED BY TRACKMASTER!"
---
RICK'S HANDICAPPING VIDEOS
THOROUGHBRED RACING
HARNESS RACING
GREYHOUND RACING
"TRACKMASTER RICK" HIGHLY RECOMMENDS THIS SITE FOR THOROUGHBRED FANS!
---
RaceAnalyser Software
Wagering Mathematics Software
Rick has added these software products to his handicapping arsenal! They use TrackMaster Past Performance Files! Check 'em out!

RaceAnalyser Thoroughbred Handicapping Software
---
Disclaimer: Every attempt has been made to insure accuracy, however since this report is prepared and typed by hand, errors, including typographical and numerical, can be made. It is the responsibility of the end user to "cross check" these selections against the actual entries and program numbers.
---
BRAZILIAN "BRAHMA BEER LONGSHOTS" - FRIDAY, OCTOBER 9, 2015
CHARLES TOWN
RACE #1: #5 BULLET BOBBY, a 4-1 shot, takes a class drop (-5), and has decent overall speed for this 6½ furlong sprint.
THE MEADOWLANDS
RACE #1: The 4-1 shot, #7 UKNOWFRIENDS, takes a class drop (-11), and ha nice overall speed for this 5.0 furlong, turf sprint.
---
Ultra Longshot Angles
NOTE: The entries listed below have been "found" utilizing TrackMaster's fantastic new product Ultra Angles ... I have utilized this product to scan EVERY TRACK in North America for entries today meeting the following 3 criteria:

a. Odds are AT LEAST 4-1
b. The entry must be the TOP POWER RATED entry in the field
c. The entry must also have the BEST SPEED in this field for today's distance and surface!

Evangeline Downs - Race #7 - 8:06PM - #2 OSCEOLA PATRIOT 9/2
Evangeline Downs - Race #9 - 8:58PM - #4 TTT BRISCO SAID SO 5/1
Finger Lakes - Race #2 - 1:02PM - #1 TRIBUTE 5/1

NOTE: Listed Post Times are given in the local time zone of the track.

CHECK OUT THIS SOFTWARE TO FIND RICK'S "POWER PUPS!"
---
NOTES ON CLASS: The TrackMaster PLUS software uses a sophisticated mathematical formula to calculate the "class" of a particular race. It is important to note that this calculation is NOT based on purse structure, but on the competitive level of the entries in today's field. Therefore, it is possible (and not uncommon), that an entry may be racing for a higher purse today than in his or her last race, but in a "TrackMaster Sense" is dropping in class, because the overall abilities of the entries in today's race are not as competitive as the entries in his or her last race. The TrackMaster class scale is numeric, and basically ranges from 50 to 100, and is particularly helpful in judging entries that are "shipping" in from another track. In my analysis of a race, I often note that an entry is "dropping in class," or "stepping up in class." Following this statement, you will see a (number in parenthesis). The value of that particular number indicates the degree of the class change. EXAMPLE: "#4 SIN CITY takes a fairly significant class drop (-8) this evening." This indicates that this entry is dropping by 8 TrackMaster Class Levels from his or her last race. It does not necessarily mean that this entry is racing for a lower purse, only racing against a less competitive field.
NOTES: I frequently use the term, "POWER RUN" in this column. It is my terminology for a previous race run at a speed, which if duplicated today, should compete for the winner's circle at the class level in which the entry is competing today. Space requirements do not allow for a thorough discussion of this calculation, however, if you would like a short essay on how the "POWER RUN" is calculated, kindly send me some EMAIL at rneedham1@yahoo.com and I'll send you a copy of my "POWER RUN" file.
---
---
2015-2016 FOOTBALL NOTES:
Rick is having some minor "heart related" medical procedures this fall ... he does not feel comfortable "charging" the annual subscription fee of $149.00 for his weekly reports, since there is a possibility that he may "miss a week!" Soooooo ... the reports will be totally free, until the procedures are finished sometime in late November (however, there may be a "missing weekend") ... Rick will have a subscription package for the college playoffs/bowls - N.F.L. playoffs through The Super Bowl! Send Rick an email requesting his free weekly reports. Note: Rick does NOT handicap N.F.L. Pre-Season games!

2015-2016 ARCHIVED FOOTBALL REPORTS:
Oregon (MINUS 7.0) at Colorado - Oct 3, 10:00 ESPN
Rick's Overview: That time-honored stock-market maxim of "buy low, sell high" often is borrowed in the sports handicapping industry. Never has it been more applicable than with the state of the betting market on Oregon (2-2) when it visits Colorado (3-1) on Saturday. The majority of college football observers were stunned at the Ducks' inept and listless performance in a 62-20 home loss to Utah last week. The margin of defeat and manner in which it was achieved are definitely worth noting, and it's looking like the Oregon program might be facing a downturn as it pertains to recent expectations and accomplishments. Even so, it's worth noting that Oregon's two losses are against Michigan State and Utah, each legitimate top-10 teams and playoff contenders. Oregon's performance against an inspired and prepared Utah team was perplexing, but it can be at least partially attributed to something of a bizarre anomaly. The Ducks gained 400 yards against the Utes -- their undoing was porous defense, turnovers and lack of execution on special teams.

Still, it's worth noting that Oregon is an above-average power conference football team and its opponent Saturday night, Colorado, is not. Opening spreads in this game in the -10 and -10.5 range were immediately bet down to the current number of -7.0. The current number is a steal on the Ducks. Those who grabbed the underdog seem to anticipate a repeat of Oregon's misery, but are apparently unaware of what they are getting into backing the Buffaloes. Colorado has yet to beat a quality opponent, and started the season with a listless performance of its own in a 28-20 road loss to Hawaii. Its defense had trouble getting off the field against a mediocre and conservative Colorado State offense, and the Buffaloes were fortunate to escape with a 27-24 overtime win. Their quarterback is experience but limited, and they lack explosive game-breakers on the outside and in the running game.

Rick's Bottom Line: In other words, this is a mismatch, and the perception of value on Colorado is misplaced. The Buffaloes are an ideal bounce-back opponent for Oregon, and the Ducks are the clear play here. I'll TAKE OREGON to both win and "cover!"
---
CHIEFS AT PACKERS (MINUS 7.0) - Sept 28, 8:00 pm ESPN
Rick's Analysis: The Chiefs and Packers had polar-opposite endings to their respective Week 2 games. K.C. lost on a fumbling gaffe by star running back Jamaal Charles, while Packers quarterback led his team to victory by playing a perfect fourth quarter. With his mobility restored, Rodgers toyed with the Seahawks' defense while extending plays, audibled to run calls for James Starks (95 yards rushing on 4.75 YPC), and threw repeated wide receiver bubble screens that Seattle could not stop.

Injury concerns with Eddie Lacy and Davante Adams should not affect Rodgers' elite play. The Chiefs will move the football, but Green Bay's defense tends to bend, not break. Against Chicago, the Packers made a fourth-and-goal stop to ensure the cover and against Seattle they forced two fourth-quarter turnovers. Underdogs have won all three Monday night games outright so far. I see Green Bay ending that streak and showing no rust following the stirring win over Seattle. Get on the Packers now as the line likely will move upward as kickoff approaches.

Rick's Bottom Line: I'll take THE PACKERS to win and cover!
Patriots at Bills (PICK 'EM) Sept 20 - 1:00 PM CBS
Rick's Overview: A battle of two longtime AFC East rivals sitting atop the standings after one week will be featured on CBS in early action on Sunday, when Tom Brady and the New England Patriots go on the road for the first time this season to take on the new-look Buffalo Bills in Ralph Wilson Stadium. New England and Brady of course kicked off the NFL's 2015 season with a victory over the Pittsburgh Steelers last Thursday, 28-21. Pittsburgh could not stop the Brady to Rob Gronkowski combination, as Brady hit Gronk for three scores in a game that wasn't as close as the score would indicate. Buffalo meanwhile opened up the Rex Ryan era as head coach with an "upset" over Andrew Luck and the Indianapolis Colts, 27-14. An already tough Buffalo defense took Ryan's new scheme and forced Indy into three turnovers and held Indy to 64 yards rushing en route to a big 24-0 lead to the end of the third quarter. New Bills quarterback Tyrod Taylor was efficient (14-of-19, 195 yards, TD) and the offense took care of the football (no sacks, no turnovers) to key the Bills big opening week win. The Bills win over the Colts was so impressive that it has caused a major point spread line movement in this week's game against the Patriots. The game originally opened late on Sunday with New England as 1.5-pointfavorites, but the early steam on Buffalo moved the line all the way down to a pick em' for Sunday's tilt. The over/under total opened at 45 and has yet to show signs of changing just yet.

Without the services of power running back LaGarrette Blount who was suspended for the opener, the Pats seemed to instead spread the field on offense and let Brady go to work. Dion Lewis emerged in Blount's absence, by there's no doubt that Brady is still the master at attacking weaknesses and switching plays at the line. The Buffalo defense is fast, deep and talented and should provide an excellent challenge for Brady just like they did against Luck last week. What will be interesting to watch this weekend is how Buffalo decides to game plan an attack against the Pats defense. The Pats defense allowed 330 yards passing to Ben Roethlisberger last week, and 134 on the ground too … so its not like they cannot get scored upon. The Bills were typical Rex Ryan last week, with 36 running plays called to just 19 passes, so the Pats better get strapped up and ready to take on LeSean McCoy and company in the trenches. New England had actually won six straight head-to-head meetings with the AFC East rival Bills until last year's late December loss in a meaningless game, 17-9. Meaningless because Brady only played about 25 snaps in the game in order to save himself for what ended as a successful Super Bowl run. Historically, the Pats have owned this series at the betting window too, going 21-10-1 ATS going back 32 games including a stellar 9-2 ATS mark in their last 11 meetings in Buffalo. However, the underdog is 4-1 ATS in the last five, so there is a glimmer of hope for Bills backers.

Rick's Bottom Line: I know the game is in Buffalo and that the Bills are a very good defensive team, but if you're going to give me Brady and the Patriots in a pick 'em game … I got to take Brady and the Pats as a pick. So I'm taking New England as a "pick" in this one.
Memphis (MINUS 12.0) at Kansas - September 12, 7:00 ESPN3
Rick's Overview: Just how well will Memphis adjust to a two-deep featuring so many new faces? It's too early to tell if the Tigers are ready to defend their shared American championship, but they did little wrong in last week's 63-7 demolition of Missouri State. Kansas, on the other hand, did plenty wrong by losing at home to South Dakota State, 41-38. It was an inauspicious debut for new Jayhawk coach David Beaty.

From The Tigers Sideline: The defense is way behind the offense in Lawrence these days. And the Tigers will pounce on the opportunity to further pad the numbers. South Dakota State slapped the Jayhawks around for 463 yards. Memphis will surpass that number off the arm of QB Paxton Lynch and the legs of Sam Craft and Jarvis Cooper.

From The Kansas Viewpoint: While there aren't many silver linings to becoming a program's first-ever FBS victim, the Jayhawks did move the ball well in Beaty's system. QB Montell Cozart spread the ball around to 10 different receivers, while JUCO transfer Ke'aun Kinner debuted with 161 rushing yards and two scores. Memphis, remember, has a whole new look on D. Keep Your Eye on Department: Memphis must contain Kinner, who looks as if he can be a productive Big 12 back. Without ground support, Cozart will make mistakes, because he's more of a complement than a signature player. Tiger linebackers Noah Robinson, Leonard Pegues and Wynton McManis will be tasked with maintaining lane integrity and wrapping up in space.

Rick's Bottom Line: Beaty might get there, but he has a long way to go with this Kansas team. Justin Fuente, meanwhile, has his Tigers eyeing American contention once again. A more polished Memphis squad will keep the Jayhawks reeling with four total touchdowns from Lynch. I'll TAKE MEMPHIS ... maybe even by a Blowout!
---
Wisconsin at Alabama (-9.0) - September 5th - 8:00 PM ABC
Rick's Overwiew When last we saw Alabama, the run defense that allowed just three touchdowns all season long was getting run over by Ezekiel Elliott and an Ohio State ground attack that cranked out 281 yards and two scores in the Sugar Bowl playoff victory. With the brutal SEC schedule to deal with – playing Georgia and Tennessee to go along with all the killers from the West – this is almost like another playoff game. Lose this, and it's asking way too much to run the table to get back into the fun, even if the Crimson Tide pulls out another SEC title. But more than that, this is about Bama's mojo. Even with another SEC championship, and despite the tremendous season that finished with a playoff appearance, that's not enough. When it's national-title-or-failure, nothing else outside of a big trophy after the last game of the year will do. This is where the Crimson Tide must make a statement, sort of like it did with the 41-14 stomping of Michigan in Arlington to open up the 2012 national title-winning season. This is where the intimidation factor has to start, because at the moment – with Auburn being picked by many to win the West – Alabama seems like it's a wee bit vulnerable. Wisconsin doesn't need this game nearly as much as Alabama does – Bucky doesn't play in the SEC West. With no Ohio State, Michigan State, Michigan or Penn State to deal with from the East, and the only real test – at least on paper – coming at Nebraska – the Badgers can lose this game, go 11-1, take down an OSU or MSU in the Big Ten championship, and get into the playoff. Of course, if they can pull off the win over the Crimson Tide, then it's Game On. If this team is good enough to beat Alabama, it's good enough to dominate everyone else on the schedule without a problem. Can Paul Chryst start out his head coach tenure with a bang? Wisconsin closed out the 2014 season with a win over Auburn, and, for the most part, the program has been able to hold its own over the years against SEC teams. Beating Alabama, though, in the first meeting between the two schools since a 15-0 Badger win in 1928, would be something truly special.

From Alabama's Sideline: Wisconsin needs to run the ball to win, Alabama might have its best run defense yet in the Nick Saban era. Drop mic, thanks for playing. The Badgers should be able to throw the ball a wee bit better than they're being given credit for, and Joel Stave could be effective on his midrange throws, but he's not going to stretch the field and there won't be too many wide open spaces to work underneath. Alabama should be able to do what it does defensively – don't take chances, don't blitz, hang back and make the stop – and let its NFL front three control the line. The Wisconsin offensive line will be terrific again with a little bit of time, but it's taking a little bit of shuffling to put it all together for the opener. That's a problem – Wisconsin can't win unless the front five wins the battle up front, and it won't

. From Wisconsin's Sideline The Badgers can play a little bit of defense, too. The secondary returns loaded – it's not a stretch to call it the best Alabama will face this year – after finishing fourth in the nation in pass defense. The Crimson Tide has weapons on the outside, but there's no Amari Cooper, and the quarterback situation is still a question mark. No, the Bucky front three isn't anywhere near the class of Bama's, but it's more than good enough to hold its own and should be able to load up and focus on Derrick Henry, Kenyan Drake and the Tide ground attack. And don't just dismiss the Wisconsin running game quite yet. LSU's defensive front might not have been up to its normal snuff last year, but it was still solid. Melvin Gordon ran wild until he was inexplicably pulled out of the opener. Auburn didn't have an answer once the Badger line started pounding away in the bowl game, and over the years, phenomenal run defenses tend to not be so amazing when Wisconsin punches them in the mouth.

Keep Your Eye On Department: Is Corey Clement really good enough to be yet another statistical superstar for the Badger running game? He showed what he could do as a freshman running for 547 yards and seven touchdowns, and last year ran for 949 yards and nine scores with the right size, the right look, and the right breakaway speed, Now he just needs a little room to move against the Tide defensive front. Replacing Melvin Gordon is apparently a piece of cake compared to finding a guy to take over the Alabama quarterback job. With Jake Coker suffering a foot injury, is it really going to be Alec Morris? Will Cooper Bateman get in? Will Coker be ready? Five quarterback are on the depth chart, with Morris looking like the easiest option to fill in. Alabama might load up to stop the run, but Wisconsin will really revolve everything around stopping the ground game.

Rick's Bottom Line:Wisconsin will look fine, it's not going to be embarrassed, and it'll have a few chances to take the game over – and then Alabama's defense will decide that fun time is over. The Badger D will keep this from getting out of hand – this won't be the 2014 Big Ten Championship all over again – but the O will hit a hard wall when it has to try to throw. I'll TAKE ALABAMA to both win and cover!
---
To visit Rick's Sports Site ... click here ... THE BETTER BETTOR
EMAIL Rick ... rneedham1@yahoo.com