RICK NEEDHAM'S BETTER BETTOR
---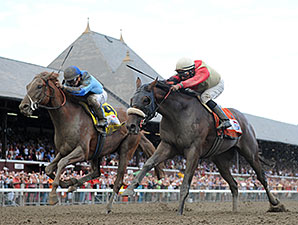 "GRAVEYARD OF FAVORITES - SARATOGA"
CROWNS ANOTHER UPSET WINNER
V.E. DAY - WINS THE TRAVERS STAKES!
---
FOOTBALL IS BACK - RICK'S N.F.L. AND COLLEGE FOOTBALL SUBSCRIPTIONS ARE NOW AVAILABLE! SCROLL DOWNWARDS TO HIS SPORTS SECTION FOR THE 2014-2015 DETAILS! - WEEK #1 SELECTIONS WERE JUST EMAILED OUT TO HIS CURRENT SUBSCRIBERS!
---
SARATOGA RACE COURSE (SARATOGA SPRINGS, NEW YORK) FRIDAY, AUGUST 29, 2014
Shortly after the main track at Keeneland opened at 5:30 a.m. Aug. 28, there was a familiar racetrack sound that had been missing at the Lexington oval since 2006: the clippity-clop of hooves striking the dirt as they breezed through the stretch. The Aug. 28 works and gallops at Keeneland were the first since the track completed installation of what it is billing a "state-of-the-art" conventional dirt oval to replace the Polytrack all-weather artificial surface that had been in place since the fall 2006 meet. Later in the morning of Aug. 28, Keeneland president and CEO Bill Thomason, director of racing Rogers Beasley, track superintendent Javier Barajas, and those involved with planning and construction of the new surface held a news conference to officially unveil the new track. "We will have thundering hooves again at Keeneland," Thomason said as he observed some of the early works. Since the fall meet does not begin until Oct. 3, the only horses training over the Polytrack training track and the new main track are those stabled year-round at the Rice Road annex. As a result, there was a paucity of activity early Aug. 28, but among the top trainers sending horses to the track were Ken McPeek and Wesley Ward. Ward said the early reviews from his exercise riders were positive. "Everybody is very happy," said the trainer who is overseeing 40 horses stabled at the Rice Road barn area. Ward said he would let his horses gallop over the track for several days to get a feel for the new surface before actually breezing any. Keeneland's clockers said they were surprised there were any workers considering the newness of the track, and that the workout times were not particularly fast nor slow. According to Equibase, there were about a half-dozens official works over the new dirt track. Two 2-year-old fillies—Liquid Crystals and one unnamed—each breezed three furlongs in :37 3/5. Among four horses working a half-mile, the best time of :48 3/5 was turned in by the 4-year-old stakes-winning filly Allanah. Working five furlongs was 3-year-old Bump Start, who was timed in :59 3/5. Beasley said Keeneland had targeted mid-August for the new surface to be in use, but that an unusual amount of rainfall in the Lexington area during the month had set the project back slightly. It was still early enough before the meet began to give the track a good workout.
RACE #10 - SARATOGA RACE COURSE - 5:48 PM EASTERN POST
The Riskaverse Stakes
8.0 FURLONGS INNER TURF THREE YEAR OLD FILLIES STAKES $100,000.00 PURSE

#2 MISS FROST
#5 GRANNY MC'S KITTEN
#3 FASHION FUND
#6 OLD HARBOR

For you folks who enjoy a little Thoroughbred Racing History to accompany your handicapping efforts here at "The Spa" on a Friday afternoon ...the turf race for 3-year-old fillies was first run in 2009 and named for Peter G. Schiff's outstanding mare, a two-time winner of the Flower Bowl Invitational in 2004-05. Riskaverse, who also won the 2002 Queen Elizabeth II Challenge Cup, retired with more than $2 million in earnings. Schiff, president of Northwood Ventures, LLC, named the daughter of Dynaformer after an economic concept based on the behavior of investors who, when faced with two investments with a similar expected return (but different risks), will prefer the one with the lower risk. Here in the 10th renewal of this stakes race, #2 MISS FROST has hit the board in five straight starts, winning three times in this recent streak of racing consistency, including back-to-back "POWER RUN WINS" in her last two starts. Jockey Edgar Prado has been in her irons on 6 previous occasions, hitting the board in four of those rides, winning three times, and is back this afternoon for his 7th ride, gunning for a "Grand Slam Win!" #5 GRANNY MC'S KITTEN, the morning line favorite, comes off a "POWER RUN WIN" in her last start.
---
RACING NEWS: In what is being billed as the "Battle Off The Saddle," jockeys Elvis Trujillo and Corey Nakatani are scheduled for a three-round boxing match Aug. 30 following the races at Del Mar. In keeping with the sport's nicknaming tradition, that's Elvis "Heartbreak" Trujillo vs. Corey "Knock Out" Nakatani. The matchup, planned for approximately 7:15 p.m. PDT along with five professional bouts, is part of the "Ringside At Del Mar" boxing series. A portion of the proceeds will go to the Permanently Disabled Jockeys' Fund. The rounds will be two minutes in duration. Trujillo, 30, is listed at 5-foot-1 and 112 pounds. The native of Panama City, Panama made the cross-country relocation from Florida to California in May and is in his first Del Mar season. The story goes that when the idea of a jockey boxing match was presented to the Del Mar colony, Nakatani, a champion high school wrestler and low-handicap golfer who never met an athletic challenge he didn't like, immediately volunteered. "Nobody wanted to fight with Corey, but I'm the new guy here, I don't know that much about him, so I said I'd do it," Trujillo said the morning of Aug. 28 after breakfast in the jockeys' room. Trujillo said he has been in the ring before. But when asked about his record he referenced less formal situations where the rules weren't Marquis of Queensberry. "I fought in the streets in Panama all the time. I won a couple and I lost a couple," Trujillo said. "It was a poor and rough neighborhood where I grew up, and you have to survive." Such an environment spawned one of the greatest boxers of all time, Panama's Roberto Duran. Trujillo is a boxing fan and enthusiast, whose favorite fighter is Floyd Mayweather Jr. Trujillo's style, and most likely strategy will be to "stick and move," as pugilistic commentators say. "I'm pretty fast and I'm going to hit him with the jab, go in and out, side to side," Trujillo said. "I know this guy can hit pretty hard, but he's 43 years old and (over) three rounds, he's going to get tired faster than I will. I'll take advantage of my speed and my age." Trujillo came west after being contacted by agent Tom Knust, who had assurances from Doug O'Neill, among other trainers, that they would welcome the veteran rider who had won titles at both Calder Casino & Race Course in Florida and Monmouth Park in New Jersey. He is fourth in the Del Mar jockey standings with 24 wins, one behind Hall of Famers Kent Desormeaux and Mike Smith, and five behind two-time defending champion Rafael Bejarano.
---
This Web Site Is --- "POWERED BY TRACKMASTER!"
---
RICK'S HANDICAPPING VIDEOS
THOROUGHBRED RACING
HARNESS RACING
GREYHOUND RACING
RICK HIGHLY RECOMMENDS THIS SITE FOR THOROUGHBRED FANS!
---
RaceAnalyser Software
Wagering Mathematics Software
Rick has added these software products to his handicapping arsenal! They use TrackMaster Past Performance Files! Check 'em out!

RaceAnalyser Thoroughbred Handicapping Software
---
Disclaimer: Every attempt has been made to insure accuracy, however since this report is prepared and typed by hand, errors, including typographical and numerical, can be made. It is the responsibility of the end user to "cross check" these selections against the actual entries and program numbers.
---
BRAZILIAN "BRAHMA BEER LONGSHOTS" - FRIDAY, AUGUST 29, 2014
CANTERBURY PARK
RACE #3: #10 MEGASTAR is 5-1 in the morning line, and is the overall speed leader in this claiming field racing at, or about, tonight's distance of 7½ furlongs on the turf.
FINGER LAKES RACE COURSE
RACE #3: #7 BEAT OF THE DRUM is 4-1 in the morning line, takes a slight class drop (-1), and has nice overall speed for this 8.3 furlong route test on the dirt.
---
Ultra Longshot Angles
NOTE: The entries listed below have been "found" utilizing TrackMaster's fantastic new product Ultra Angles ... I have utilized this product to scan EVERY TRACK in North America for entries today meeting the following 3 criteria:

a. Odds are at least, 4-1 or greater
b. The entry must be the TOP POWER RATED entry in the field
c. The entry must also have the BEST SPEED in this field for today's distance and surface!

Canterbury Park - Race #7 - 9:34PM - #1 DAKOTA MAC 5/1
Ellis Park - Race #1 - 12:50PM - #8 HALLIE RUTH 15/1

NOTE: Listed Post Times are given in the local time zone of the track.

CHECK OUT THIS SOFTWARE TO FIND RICK'S "POWER PUPS!"
---
NOTES ON CLASS: The TrackMaster PLUS software uses a sophisticated mathematical formula to calculate the "class" of a particular race. It is important to note that this calculation is NOT based on purse structure, but on the competitive level of the entries in today's field. Therefore, it is possible (and not uncommon), that an entry may be racing for a higher purse today than in his or her last race, but in a "TrackMaster Sense" is dropping in class, because the overall abilities of the entries in today's race are not as competitive as the entries in his or her last race. The TrackMaster class scale is numeric, and basically ranges from 50 to 100, and is particularly helpful in judging entries that are "shipping" in from another track. In my analysis of a race, I often note that an entry is "dropping in class," or "stepping up in class." Following this statement, you will see a (number in parenthesis). The value of that particular number indicates the degree of the class change. EXAMPLE: "#4 SIN CITY takes a fairly significant class drop (-8) this evening." This indicates that this entry is dropping by 8 TrackMaster Class Levels from his or her last race. It does not necessarily mean that this entry is racing for a lower purse, only racing against a less competitive field.
NOTES: I frequently use the term, "POWER RUN" in this column. It is my terminology for a previous race run at a speed, which if duplicated today, should compete for the winner's circle at the class level in which the entry is competing today. Space requirements do not allow for a thorough discussion of this calculation, however, if you would like a short essay on how the "POWER RUN" is calculated, kindly send me some EMAIL at rneedham1@yahoo.com and I'll send you a copy of my "POWER RUN" file.
---
---
PRO/COLLEGE FOOTBALL ANALYSIS - 2014-2015 SEASON
Yep ... FOOTBALL IS INDEED BACK!!!

Rick is once again ... "dusting off" his SportsMaster for Football Software ... and his "ancient" Windows Machine ... to for the 8th straight year ... to analyze Professional and College Football for the 2014-2015 season. As he has done in the past .. 100% of the monies for his service are given to his former middle school students who attended The Nativity School of Harrisburg (a middle school for poverty level boys) and are now currently in college. Subscription monies last year purchased text books ... calculators ... lab fees ... etc. for his students.

If you would like to receive his weekly reports .. which include his analysis of N.F.L. Football through the Super Bowl, as well as college football analysis (including his 20 page analysis of the 2015 College Football Bowl Games) ... kindly send a check or money order for $150.00 payable to Richard Needham to ...

Richard Needham
7621 Jonestown Road
Harrisburg, PA 17112

Rick Notes:

1. There is no analysis of pre-season N.F.L. Games

2. Weekly reports are sent via email ... usually on Thursday or Friday of each week. Kindly include your preferred email address with your subscription.

3. Unlike other years ... there is no "free analysis" for the first month of the "season" ... emails will be sent when subscription monies have been received.

4. As in the past ... the "subscription rate" will increase weekly as the football season progresses ... when the N.F.L. season begins ... the subscription rate will be $150.00 ... so it is to your "advantage" to "lock up" your subscription before the N.F.L. season begins!

2014-2015 ARCHIVED REPORTS:

"UPCOMING"