RICK NEEDHAM'S BETTER BETTOR
---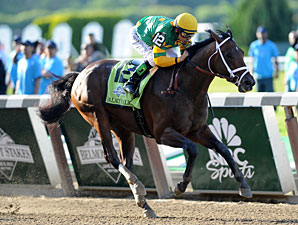 RACING RETURNS
TO BELMONT PARK!
This Web Site Is --- "POWERED BY TRACKMASTER!"
---
RICK'S HANDICAPPING VIDEOS
THOROUGHBRED RACING
HARNESS RACING
GREYHOUND RACING
---
RICK HIGHLY RECOMMENDS THIS SITE FOR THOROUGHBRED FANS!
---
RaceAnalyser Software
Wagering Mathematics Software
Rick has added these software products to his handicapping arsenal! They use TrackMaster Past Performance Files! Check 'em out!

RaceAnalyser Thoroughbred Handicapping Software
---
Disclaimer: Every attempt has been made to insure accuracy, however since this report is prepared and typed by hand, errors, including typographical and numerical, can be made. It is the responsibility of the end user to "cross check" these selections against the actual entries and program numbers.
---
BRAZILIAN "BRAHMA BEER LONGSHOTS" - WEDNESDAY, OCTOBER 1, 2014
CHARLES TOWN
RACE #4: The 8-1 shot, #7 LADY ELEANOR has decent overall speed for this 6½ furlong sprint, and has hit the board in "POWER RUN FASHION" in three of her last five outings, including a "POWER RUN WIN" in her 4th race back.
FINGER LAKES
RACE #1: #3 KING'S VISION is 4-1 in the morning line, and has hit the board in "POWER RUN FASHION" in two of his last three outings, including a "POWER RUN WIN" in his last start.
Ultra Longshot Angles
NOTE: The entries listed below have been "found" utilizing TrackMaster's fantastic new product Ultra Angles ... I have utilized this product to scan EVERY TRACK in North America for entries today meeting the following 3 criteria:

a. Odds are at least, 4-1 or greater
b. The entry must be the TOP POWER RATED entry in the field
c. The entry must also have the BEST SPEED in this field for today's distance and surface!

Finger Lakes - Race #8 - 4:19PM - #6 LOCAL LEGACY 10/1
Fresno - Race #4 - 2:53PM - #5 GIANNONATTI 5/1

NOTE: Listed Post Times are given in the local time zone of the track.

CHECK OUT THIS SOFTWARE TO FIND RICK'S "POWER PUPS!"
---
NOTES ON CLASS: The TrackMaster PLUS software uses a sophisticated mathematical formula to calculate the "class" of a particular race. It is important to note that this calculation is NOT based on purse structure, but on the competitive level of the entries in today's field. Therefore, it is possible (and not uncommon), that an entry may be racing for a higher purse today than in his or her last race, but in a "TrackMaster Sense" is dropping in class, because the overall abilities of the entries in today's race are not as competitive as the entries in his or her last race. The TrackMaster class scale is numeric, and basically ranges from 50 to 100, and is particularly helpful in judging entries that are "shipping" in from another track. In my analysis of a race, I often note that an entry is "dropping in class," or "stepping up in class." Following this statement, you will see a (number in parenthesis). The value of that particular number indicates the degree of the class change. EXAMPLE: "#4 SIN CITY takes a fairly significant class drop (-8) this evening." This indicates that this entry is dropping by 8 TrackMaster Class Levels from his or her last race. It does not necessarily mean that this entry is racing for a lower purse, only racing against a less competitive field.
NOTES: I frequently use the term, "POWER RUN" in this column. It is my terminology for a previous race run at a speed, which if duplicated today, should compete for the winner's circle at the class level in which the entry is competing today. Space requirements do not allow for a thorough discussion of this calculation, however, if you would like a short essay on how the "POWER RUN" is calculated, kindly send me some EMAIL at rneedham1@yahoo.com and I'll send you a copy of my "POWER RUN" file.
---
---
PRO/COLLEGE FOOTBALL ANALYSIS - 2014-2015 SEASON
Yep ... FOOTBALL IS INDEED BACK!!!

Rick is once again ... "dusting off" his SportsMaster for Football Software ... and his "ancient" Windows Machine ... to for the 8th straight year ... to analyze Professional and College Football for the 2014-2015 season. As he has done in the past .. 100% of the monies for his service are given to his former middle school students who attended The Nativity School of Harrisburg (a middle school for poverty level boys) and are now currently in college. Subscription monies last year purchased text books ... calculators ... lab fees ... etc. for his students.

If you would like to receive his weekly reports .. which include his analysis of N.F.L. Football through the Super Bowl, as well as college football analysis (including his 20 page analysis of the 2015 College Football Bowl Games) ... kindly send a check or money order for $175.00 payable to Richard Needham to ...

Richard Needham
7621 Jonestown Road
Harrisburg, PA 17112

Rick Notes:

1. There is no analysis of pre-season N.F.L. Games

2. Weekly reports are sent via email ... usually on Thursday or Friday of each week. Kindly include your preferred email address with your subscription.

3. Unlike other years ... there is no "free analysis" for the first month of the "season" ... emails will be sent when subscription monies have been received.

4. As in the past ... the "subscription rate" will increase weekly as the football season progresses ... when the N.F.L. season begins ... the subscription rate will be $150.00 ... so it is to your "advantage" to "lock up" your subscription before the N.F.L. season begins!
---
RICK'S "JUST FOR FUN DEPARTMENT!"
2014-2015 ARCHIVED REPORTS:
Eagles (PLUS 5.0) at 49'ers - Sept 28th, 4:25 FOX
Rick's Overview: This Sunday, we will have a great NFC showdown when the Philadelphia Eagles travel west to take on the San Francisco 49ers. Philly comes in undefeated at 3-0, while San Francisco desperately needs to get back on the winning track. The line opens with the 49ers a four point favorites at home, and the total points are set at 50.5. Many believe that this game could be a preview of an NFL Playoff game. I have my own opinions about that, but nonetheless, this is a highly anticipated match-up. It is not very often you see a 1-2 team favored by 4 or 5 points, but then again, this is San Francisco...people are high on them.

For going on three years now, the San Francisco 49ers have been considered one of the better teams in the NFC, as well as the NFL. After they lost to the Seahawks in the NFC Title game last season, I turned to my friend and said "well, the Niners are done for awhile." He thought I was crazy, but here we are. The 49ers are 1-2 and on the verge of being 1-3 if they do not right the ship this week. I predicted before this season started that the NFC West would send two teams to the playoffs (Seattle and Arizona). I called an 8-8 finish for the Niners. Kaepernick in my opinion is an incredible athlete, but I think he makes far too many mistakes at the QB position in big moments. I could be wrong but I predict by 2016, the Niners will begin their search for the next "franchise QB." Okay, anyway, enough about my predictions on this team, but I just do not think they are as good as people seem to think. Currently, San Francisco ranks 17th in the NFL in both passing offense and rushing offense. On the defensive side of the ball, the 49ers are the 7th best team against the run and the 15th best against the pass. In defense of the 49ers, they have played a pretty tough schedule so far. I believe the Bears and Cardinals are both NFC Playoff teams, and the Cowboys are never a pushover in Dallas. The key to this game for t 49ers is to control the ball. They cannot let Philadelphia keep that up tempo offense on the field or it could be a long day for them. On the flip side, not only does San Francisco need to keep the Eagles offense on the sideline, they also need to make sure to slow down the attacking Philly offense. These guys can score at will, and can be very explosive. The Niners must eliminate the big plays and make Philly earn every score.

The Philadelphia Eagles look good, really good. They come into this game 3-0 and 1-0 in their division. Of course the Jacksonville win was a given, but since that week one match-up, the Eagles have taken down the Colts and the Redskins. Philadelphia ranks 2nd in the NFL in passing yards averaging over 310 yards a game. The running game is only ranked 19th in the league, but when you are throwing for over 300 yards, another 110 on the ground is just bonus. This is a solid offense. The weakness in the Eagles however is their pass defense. Opponents are passing for over 280 yards a game. In order to slow down the 49ers, this much improve this week. The running defense is top 15, but they will have their hands full with Frank Gore and Colin Kaepernick. The Eagles goals in this game are the same as San Francisco's...keep the other teams defense on the field. Controlling the clock and keeping the other defense winded will be a big key to winning this one.

Rick's Bottom Line: This is a pure toss up. A four-five point home favorite (depending on yoour "book") versus a 3-0 team. I have always liked the home favorites, especially when a team is traveling cross country, but going east to west is not as big of a disadvantage as it is going west to east. The "earlier" start for the west coast team on the east has a much bigger effect. As for right now, 62% of the action is being laid on Philadelphia to cover the four. This is not a big enough range in order to bet contrary to the public opinion. I took much of this breakdown explaining that I do not think San Francisco is that good of a team this year, and I think this Sunday is when the 49ers fans officially go into panic mode. I like the Eagles to go into California and get a win. Look for the Eagles to win a 27-23 type contest or lose by no more than a field goal. I'll TAKE THE EAGLES to at least ... Beat The Spread!
Oregon State at Southern California (MINUS 9.0) - Sept 27, 10:30 ESPN
Rick's Overview: No. 18 USC returns to work for the first time since getting embarrassed two weeks ago by Boston College. A week off afforded the Trojans an opportunity to take a deep breath, refocus and really teach some of the younger kids. Itíll be interesting to see how Troy responds to the wild swings of emotion that have marked the beginning of the Steve Sarkisian era. Oregon State heads to Los Angeles looking to snap a 22-game Coliseum losing streak that dates back to 1960. The Beavers, like so many unbeaten teams in September, havenít proven a whole lot by taking down Portland State, Hawaii and San Diego State.

From The Beavers' Sideline: The Beaver D is comprised of all juniors and seniors, and itís operating like a veteran unit. CB Steven Nelson and SS Ryan Murphy headline a secondary that has yet to allow a touchdown pass in 2014. Meanwhile, the USC defense is still trying to recover from the whooping it received from the Boston College ground game. This is a week that Oregon State might want to see backs Terron Ward and Storm Woods complementing the passing of Sean Mannion a little more.

From The Trojans' Viewpoint: After being shut down two weeks ago, the Trojans are going to run the ball with something to prove. Expect a huge day from RB Javorius Allen, whoíll be facing a retooled D-line thatís had issues in run defense lately. Oregon Stateís new-look offensive line must also prove that it can keep DE Leonard Williams and the rest of the USC defenders off Mannionís back. Mannion, by the way, will be down a weapon now that starting WR Victor Bolden is out with an injury.

Rick's "Keep Your Eye on Department: Can Nelson neutralize Nelson Agholor, the best wide receiver heíll face in the first month of the season? Agholor has already caught 23 passes from Cody Kessler, three of which produced six points. And if Nelson is fixated on Agholor, how will Oregon Stateís other starting corner, Larry Scott, manage USC rookie sensation JuJu Smith?

Rick's Bottom Line: Nothing USC did in the first three games was expected, but Troy is about to restore some stability to the program, if only for a week. The Trojans will handle Oregon State easier than expected behind a huge day on the ground from Allen and a solid all-around effort from the defense. I'll TAKE U.S.C. to both win and cover!
---
RICK'S "HOT-SPOT" PLAYS

NEBRASKA (MINUS 7.0) OVER MIAMI
VIRGINIA (PLUS 15.0) OVER B.Y.U.
GEORGIA TECH (PLUS 8.0) OVER VIRGINIA TECH
EAST CAROLINA (MINUS 2.0) OVER NORTH CAROLINA

REDSKINS (PLUS 7.0) OVER EAGLES