RICK NEEDHAM'S BETTER BETTOR
---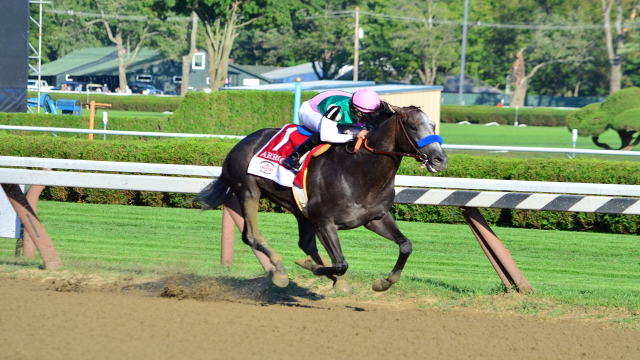 ARROGATE
WINS THE TRAVERS
IN RECORD TIME!!!
2016-2017 FOOTBALL REPORT INFORMATION IS NOW AVAILABLE - SCROLL DOWNWARD TO RICK'S "SPORT SECTION" FOR DETAILS! RICK'S REPORT FOR COLLEGE WEEK #4 / N.F.L. WEEK #3 - HAVE BEEN EMAILED TO "SUBSCRIBERS!" FRIDAY 9/15/2016 SATURDAY (9/24/0 UPDATE - RICK NAILED THE FLORIDA STATE GAME - SEE ARCHIVE SECTION BELOW!
PARX RACING (BENSALEM, PA) MONDAY, SEPTEMBER 26, 2016
The California Horse Racing Board suspended trainer Steve Miyadi's license Sept. 25, following an incident Sept. 23, in which he shoved CHRB commissioner and active jockey Alex Solis. Miyadi was arrested Friday at Santa Anita Park and charged with misdemeanor battery. The CHRB cited a "Business and Professions Code" in its decision to suspend the trainer's license, along with a stipulated settlement for Miyadi's previous suspension, which stemmed from a positive amphetamine and methamphetamine test on one of his horses in December. The settlement called for a year of probation, but that measure was regarding "Class I, II, or III drug substances." CHRB spokesman Mike Marten said Sunday that Miyadi "is entitled to a hearing within 10 days on the matter." Miyadi was unavailable for comment Sunday morning.
RACE #4 - PARX RACING - 2:06 PM EASTERN POST
6½ FURLONGS DIRT THREE YEARS OLD AND UPWARD $20,000.00 CLAIMING $30,000.00 PURSE

#8 NICONELLIE
#9 FAR OUT WEST
#3 WESTERN CONQUEROR
#7 SILVER TROPHY

#8 NICONELLIE takes a class drop (-10) this afternoon, is the overall speed leader in this field sprinting at, or about, today's distance of 6½ furlongs on the dirt, and has produced a quartet of "POWER RUNS" in his last five outings, including back-to-back "POWER RUN WINS" in his 3rd and 4th races back. Jockey Paco Lopez and TraIner Kathleen O'Connell send him to the post ... they've hit the board with 64% of their entries saddled as a team to date. #9 FAR OUT WEST, a 4-1 shot, has turned in "POWER RUN PERFORMANCES" in each of his last five starts, hitting the board in three, including back-to-back "POWER RUN WINS" in his 4th and 5th races back.
---
RACING NEWS: Jockey Jose Valdivia Jr., trainer Larry Rivelli, and Vince Foglia's Patricia's Hope all repeated their 2015 meet titles at the conclusion of Arlington International Racecourse's 74-day meet Sept. 24. Valdivia captured his second leading rider title from as many seasons riding full time at Arlington. Valdivia tallied 80 wins as the leading rider in 2015 and increased that number in 2016 to land in the winner's circle 100 times. Rivelli captured his fourth leading trainer title at Arlington with a total of 58 wins. Last year Rivelli landed 72 wins. Foglia's Patricia's Hope captured its first leading owner title at any racetrack at Arlington's 2015 meet and repeated as leading owner with 29 wins in 2016.
---
RICK'S HANDICAPPING VIDEOS
THOROUGHBRED RACING
HARNESS RACING
GREYHOUND RACING
---
RaceAnalyser Software
Wagering Mathematics Software
Rick has added these software products to his handicapping arsenal! They use TrackMaster Past Performance Files! Check 'em out!

RaceAnalyser Thoroughbred Handicapping Software
---
Disclaimer: Every attempt has been made to insure accuracy, however since this report is prepared and typed by hand, errors, including typographical and numerical, can be made. It is the responsibility of the end user to "cross check" these selections against the actual entries and program numbers.
---
BRAZILIAN "BRAHMA BEER LONGSHOTS" - SEPTEMBER 26, 2016
MOUNTAINEER PARK
RACE #8: #6 BLUES EDGE is 9-2 in the morning line, takes a BIG class drop (-14), is the overall speed leader, and has hit the board in "POWER RUN FASHION" in three of her last five outings, including a "POWER RUN WIN" in her 3rd race back.
PRESQUE ISLE DOWNS
RACE #2: The 6-1 shot, #2 MARK MY WAY, drops in class (-4), is the speed leader in this field sprinting at today's distance of 6.0 furlongs on the "dirt," and has hit the board in "POWER RUN FASHION" in four of his last five starts.
---
Ultra Longshot Angles
NOTE: The entries listed below have been "found" utilizing TrackMaster's fantastic new product Ultra Angles ... I have utilized this product to scan EVERY TRACK in North America for entries today meeting the following 3 criteria:

a. Odds are AT LEAST 4-1
b. The entry must be the TOP POWER RATED entry in the field
c. The entry must also have the BEST SPEED in this field for today's distance and surface!

Mountaineer Park - Race #9 - 9:56PM - #1 RUOTE 15/1
Presque Isle Downs - Race #2 - 5:50PM - #2 MARK MY WAY 6/1

NOTE: Listed Post Times are given in the local time zone of the track.

CHECK OUT THIS SOFTWARE TO FIND RICK'S "POWER PUPS!"
---
NOTES ON CLASS: The TrackMaster PLUS software uses a sophisticated mathematical formula to calculate the "class" of a particular race. It is important to note that this calculation is NOT based on purse structure, but on the competitive level of the entries in today's field. Therefore, it is possible (and not uncommon), that an entry may be racing for a higher purse today than in his or her last race, but in a "TrackMaster Sense" is dropping in class, because the overall abilities of the entries in today's race are not as competitive as the entries in his or her last race. The TrackMaster class scale is numeric, and basically ranges from 50 to 100, and is particularly helpful in judging entries that are "shipping" in from another track. In my analysis of a race, I often note that an entry is "dropping in class," or "stepping up in class." Following this statement, you will see a (number in parenthesis). The value of that particular number indicates the degree of the class change. EXAMPLE: "#4 SIN CITY takes a fairly significant class drop (-8) this evening." This indicates that this entry is dropping by 8 TrackMaster Class Levels from his or her last race. It does not necessarily mean that this entry is racing for a lower purse, only racing against a less competitive field.
NOTES: I frequently use the term, "POWER RUN" in this column. It is my terminology for a previous race run at a speed, which if duplicated today, should compete for the winner's circle at the class level in which the entry is competing today. Space requirements do not allow for a thorough discussion of this calculation, however, if you would like a short essay on how the "POWER RUN" is calculated, kindly send me some EMAIL at rneedham1@yahoo.com and I'll send you a copy of my "POWER RUN" file.
---
Do you want some handicapping tips? Select an "essay" below, and I'll return some comments to you via email!

Kindly enter Your Name:
Bouncers
Power Run/PowerPonies
Maiden Starters
LASIX Runners
Three Star Sires
The Value of Class
Reading PS's
Exotic Wager BOXING
Aqueduct's Inner Track
Down and Dirty Quick Pick Longshots
How to qualify for The Breeders' Cup
The Psychology of Pari-Mutual Wagering

---
RICK'S 2016-2017 FOOTBALL ANALYSIS
Well folks ... the 2016-2017 Football Season is rapidly approaching, and Rick is now accepting "subscriptions" for his analysis of the upcoming college and N.F.L. seasons ...for the 14th consecutive year!

Some comments ...

Rick does not handicap pre-season N.F.L. games

Rick uses a "personally archived version" of the "SportsMaster for Football" software product to analyze weekly college and professional games ... this software product is no longer being sold by TrackMaster/SportsMaster

Depending on schedules, and "line changes," weekly reports are usually e-mailed to subscribers on Thursday or Friday of each week.

SportsMaster for Football Software is a database requiring "data" ... Rick's analysis improves significantly as the season progresses, as the resulting "data points" progress and increase.

A subscription to Rick's analysis not only includes his N.F.L selections through the "Super Bowl" .. .but also his complete analysis of ALL College Bowl Games, which last year resulted in a 73% winning result!

Unlike other "pundits" that offer "discounts" as the season progresses ... Rick's reports increase in price weekly .. so it is to your advantage to subscribe early!

100% of the "subscription monies" received are used to support Rick's former students at The Nativity School of Harrisburg - a middle school for poverty level boys in Harrisburg, PA!

To subscribe ... send an email to Rick to his email address noted below, to indicate your interest to subscribe.

Then send a check for $150.00 to ...

Rick Needham
7621 Jonestown Road
Harrisburg, PA 17112

Your weekly reports will be emailed to you when your check "clears!"

EMAIL RICK TO SUBSCRIBE FOR THE SEASON! : rneedham1@yahoo.com GOOD LUCK THIS SEASON - "BET WITH YOUR HEAD - NOT OVER IT!
ARCHIVED REPORTS - 2016-2017 SEASON
Florida State (MINUS 5½) at South Florida - Sept 24, 12:00 Noon - ABC
From the F.S.U. Sideline: This is still one of the most talented teams in America. Itís still banged up, itís still coming off an embarrassing performance, and it has to pick itself up off the mat after getting housed by Louisville, but itís still good enough to run the table. It was an obviously awful day early last Saturday, but the pass rush is still fantastic, the athletes are there at linebacker to slow down the Bull ground game, and the playmakers and weapons are just too good on offense to be that bad again. Yeah, South Florida is the hot underground pick this week because FSU looked so bad, but Towson, Northern Illinois, and Syracuse arenít Ole Miss and Louisville. This is an embarrassed and well-motivated Seminole team thatís not going to take this game lightly. The Bull secondary got hit hard by Syracuse QB Eric Dungey last week, giving up 350 yards and two scores against a good passing attack. There isnít enough of a USF pass rush to bother Deondre Francois, who just never got comfortable last week and didnít get enough help. Thatíll come this week. If youíve been waiting for Dalvin Cook to shine again, this will be it.

From the South Florida Viewpoint: Do the Bulls have the right makeup to handle the Noles? FSU might be saying all the right things, and they appear to have the exact attitude needed to bounce back quickly, but this could still be a gassed team playing its fourth game in 19 days. Donít blow off the relative lack of stress USF has faced, to go along with the two extra days of rest so far this year Ė FSU has had to deal with some powerful battles so far and the body blows on both sides of the ball seem to be adding up. Playing its third game of the year away from home isnít going to help, either, even with plenty of Garnet and Gold fans in attendance. And then thereís the other factor that no one seems to notice Ė maybe, just maybe, Florida State is just okay. New year, new team, but going back to the bowl loss to Houston, and over the last three games against FBS teams, the Noles have come up with one really good half against Ole Miss, and struggled the rest of the way. The USF running game has been fantastic so far Ė if Marlon Mack really is hurt, he didnít look it last week. He missed the Northern Illinois game going through the concussion protocol, but came back to average almost 13 yards per pop in the blowout over Syracuse. And itís not just him, with the rest of the offense doing its part over the first three games. All it might take is a few early big plays to put the Seminoles right back into the tank. Confidence and momentum might mean everything.

Rick's Bottom Line: You know sometimes when a pick becomes too trendy? South Florida has become the one team everyone in ďthe communityĒ seems to be in love with this week, but Florida State is still way too good, way too promising, and with way too much to play for. Itís possible Louisville is just that good, and itís also possible the Cardinals just hit the right note on the right day. The Bulls are being overhyped based on playing three bad teams Ė this is where Florida State gets its groove back. I'll TAKE FLORIDA STATE to both win and cover!
---
Maryland (Minus 8½) at Florida International - Sept 9, 7:30 CBSS
From the Terps Sideline: The Terps got their first win under new head coach D.J. Durkin, tuning up with just about everything going right in the lightweight win over Howard. The passing game wasnít fantastic, but it was good enough to complement the loaded day from the ground attack that barreled all over the Bison. FIU wasnít even close to slowing down the Indiana ground attack in the home loss last week, getting hit for 246 yards Ė the Hoosiers rumbled without a problem. Maryland might not have been tested or pushed, but it managed to come up with a clean game with no turnovers and just two penalties. As long as there arenít a slew of mistakes to let FIU get a few cheap scores, the ground game and short passing attack should be enough to get by.

From the F.I.U. Viewpoint: The Golden Panthers might not have done anything on the ground against the Hoosiers, and they might not have been able to get into the game thanks to a slew of turnovers, but the D got behind the line. There was decent enough pressure to bother the IU backfield a bit to bend, but not break on several drives. The problem? Giveaways. Maryland might have been clean against Howard, but this was a turnover machine last season that still has to prove it can get by without a slew of big mistakes when pressed. Perry Hills might have thrown just fine when he didnít have to push, but will he start giving the ball away if he has to start making more plays? The downfield passing game wasnít tested out too much Ė FIU has to keep everything underneath and canít miss tackles.

Rick's Bottom Line: Itís a different Terp team under Durkin, but if FIU can somehow force several third-and-long situations, it should be able to keep this from getting out of hand. Itís a Friday night nationally televised showcase moment at home for the Golden Panthers, and theyíll play better than they did against IU. Theyíll lose the turnover margin, though, and Maryland will use the two key plays to pull away in the second. I'll TAKE MARYLAND to both win and cover!
---
HAWAII AT CALIFORNIA (MINUS 18.0)
Date: Friday, August 26
Game Time: 10:00 pm ET
Venue: ANZ Stadium, Sydney, Australia
Network: ESPN

The college football season "kicks off" on Friday night ... not certain why ... from Sydney, Australia!

From The Golden Bears' Sideline ... new starting quarterback Davis Webb should have about 19 days to throw. The new Hawaii coaching staff is switching up defensive styles a bit to go with more of an attacking scheme Ė but all new coaches try to do that. The problem is that they donít quite have the personnel to do much about it. The front line doesnít have enough difference-makers or pass rushers to keep Webb from bombing away at will. Expect the Bears to come up with at least 400 yards through the air right out of the gate, if for no other reason than to show thereís life after Jared Goff.

From "The Rainbows' Perspective ... time of possession never seems to matter to a Sonny Dykes offense, but Hawaii might have the potential to control the clock and the game a little bit by running effectively. When this whole new era of head coach Nick Rolovich football works, itíll be with a high-end passing attack thatís not going to be there right away. Ikaika Woolsey is more of a baller than a bomber, but he should be able to move the chains a bit with his legs. To help settle things down and keep the defense off the field, the Warriors will try to rely on their solid stable of veteran backs working behind an experienced line. The Cal defensive front is fine, but itís being reworked and itís hardly anything special. Okay, okay, okay, so Rolovich is going to come out winging it, but if and when that doesnít work, the Warriors can control the game by getting physical.

Rick's Bottom Line: Welcome to the new world of Davis Webb. Hawaii will have its moments on offense when it makes something splashy happen, and it has too many veterans to go completely into the tank, but the defense wonít have any answers for the high-octane Bears once the machine gets rolling. The Aussies will have some fun with this one with the two teams combining for 1,000 yards of offense. Cal will have more.

I'll TAKE CAL to win and cover the spread ... probably in the 45-20 range!