RICK NEEDHAM'S BETTER BETTOR
---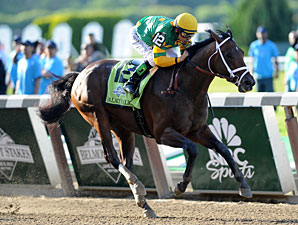 RACING RETURNS
TO BELMONT PARK!
FOOTBALL IS BACK - RICK'S N.F.L. AND COLLEGE FOOTBALL SUBSCRIPTIONS ARE NOW AVAILABLE! SCROLL DOWNWARDS TO HIS SPORTS SECTION FOR THE 2014-2015 DETAILS! - WEEK #4 SELECTIONS WILL BEOUT TO HIS CURRENT SUBSCRIBERS ON FRIDAY THIS WEEK!
---
PARX RACING (BENSALEM, PA) TUESDAY, SEPTEMBER 16, 2014
California Chrome, winner of the Kentucky Derby and the Preakness Stakes (both gr. I), will break from the rail in the $1 million Pennsylvania Derby (gr. II) Sept. 20 at Parx Racing, not exactly the most ideal draw for the even-money morning-line favorite. The nine-furlong Pennsylvania Derby will mark California Chrome's return to the races following his eventful fourth-place finish in the Belmont Stakes (gr. I), in which he was stepped on by another horse coming out of the gate. It ripped off a good chunk of his ankle. What California Chrome and jockey Victor Espinoza will have to contend with in addition to breaking from the rail in the eight-horse field is the always dangerous speed of Bayern, the runaway Haskell Invitational (gr. I) winner who stopped badly to finish last in the Travers Stakes (gr. I). The son of Offlee Wild will break from the ideal post 4 under Martin Garcia and has been installed as the 7-2 second choice. Horses with a race over the Parx dirt surface often have an advantage, and that should bode well for the chances of Protonico and Classic Giacnroll, the one-two finishers of the Smarty Jones Stakes (gr. III). The Todd Pletcher-trained Protonico exploded late to snatch victory in the final yards.

Another danger to California Chrome could be the once highly regarded Kentucky Derby contender Tapiture, who has won both his starts since his 15th-place finish in the Derby at Churchill Downs. The son of Tapit returned with a workmanlike two-length victory in the Matt Winn Stakes (gr. III) at Churchill June 14 before scoring by a nose over Candy Boy in the West Virginia Derby (gr. II). Third-place finisher Vicar's in Trouble, third in the West Virginia Derby, came back to score an impressive victory in the Super Derby (gr. II). Tapiture will break from post 7 under Rosie Napravnik and is the 5-1 third choice. Candy Boy, who also finished second to champion Shared Belief in the Los Alamitos Derby, always gives a good account of himself and he has also been entered in the Pennsylvania Derby at a generous 12-1 with Joel Rosario aboard. Noble Moon and C J's Awesome round out the field. Despite the array of talented horses in the Pennsylvania Derby, all eyes will be squarely on California Chrome, who developed a nationwide fan base during his Triple Crown journey.

The California-bred son of Lucky Pulpit indicated his sharpness for the Pennsylvania Derby by working six furlongs in 1:10 1/5 between races at Los Alamitos before coming back with a maintenance six-furlong drill in 1:13 4/5. Because of the bonus system instituted by Parx Racing, California Chrome's trainer, Art Sherman, and owners Perry Martin and Steve Coburn of Dumb Ass Stable, each will receive $100,000 just for running, by virtue of California Chrome having won two legs of the Triple Crown. The main tasks facing Espinoza are avoiding trouble breaking from the rail and not taking on Bayern too early, while not letting him get too easy of a lead, as he did in the Haskell. On paper, the only other horse that appears capable of running with Bayern is C J's Awesome, who will break from the outside. The son of Awesome Again , trained by Ken McPeek is coming off a 7 1/2-length wire-to-wire romp in a Saratoga Race Course allowance event, so Espinoza will have to see if C J's Awesome can put pressure on Bayern before deciding on a strategy.
RACE #8 - PARX RACING - 3:34 PM EASTERN POST
7.0 FURLONGS DIRT THREE YEARS OLD AND UPWARD STARTER ALLOWANCE $29,000.00 PURSE

#4 RAPID ROUGE
#5 CHASING TWILIGHT
#6 MAKEMELOSEMYMIND
#2 HERE'S A JETPACK

#4 RAPID ROUGE takes a class drop (-5), and has produced a quartet of "POWER RUNS" in his last five outings, hitting the board in a pair, including a "POWER RUN WIN" in his 5th race back. #5 CHASING TWILIGHT posted a win in his 4th race back, and comes off back-to-back "POWER RUNS" facing better company in his last two starts. Jockey Hector Caballero and Trainer William Hedus send him to the post ... they've hit the board with 52% of their entries saddled as a team to date.
---
RACING NEWS: Euro Charline, will have the services of Racing Hall of Fame jockey John Velazquez when she pursues a second straight grade I victory Oct. 11 in the Queen Elizabeth II Challenge Cup Stakes at Keeneland. Team Valor International's filly will return to the 3-year-old ranks after she upstaged elders in the Beverly D. Stakes (gr. IT) Aug. 16 at Arlington Park in her U.S. debut. Ryan Moore was in the saddle that day but cannot make the return trip to the United States for the QEII because of a riding commitment in England. Velazquez won the Kentucky Derby (gr. I) for Team Valor on Animal Kingdom and is a longtime go-to rider for Euro Charline's new trainer, Todd Pletcher, who received the filly from Newmarket-based Marco Botti after the Beverly D. Euro Charline breezed a half mile in :50 in company on the inner turf course at Belmont Park on Sunday in her first workout for Pletcher. "She has really settled in here well," said Pletcher, a multiple Eclipse Award winner. With the Beverly D. triumph, Euro Charline earned a "Win and You're In" ticket to the $2-million Breeders' Cup Filly and Mare Turf (gr. IT) Nov. 1 at Santa Anita Park. "We're thinking about the Breeders' Cup, but the race we're really focused on and the one we brought her over to try to win is the Queen Elizabeth," said Team Valor chief exectutive Barry Irwin.
---
This Web Site Is --- "POWERED BY TRACKMASTER!"
---
RICK'S HANDICAPPING VIDEOS
THOROUGHBRED RACING
HARNESS RACING
GREYHOUND RACING
---
RICK HIGHLY RECOMMENDS THIS SITE FOR THOROUGHBRED FANS!
---
RaceAnalyser Software
Wagering Mathematics Software
Rick has added these software products to his handicapping arsenal! They use TrackMaster Past Performance Files! Check 'em out!

RaceAnalyser Thoroughbred Handicapping Software
---
Disclaimer: Every attempt has been made to insure accuracy, however since this report is prepared and typed by hand, errors, including typographical and numerical, can be made. It is the responsibility of the end user to "cross check" these selections against the actual entries and program numbers.
---
BRAZILIAN "BRAHMA BEER LONGSHOTS" - TUESDAY, SEPTEMBER 16, 2014
MOUNTAINEER PARK
RACE #5: #6 SHES NOTABLE, a 9-2 shot, is the overall speed leader in this claiming field tonight sprinting at, or about, 5½ furlongs on the dirt, and has hit the board in "POWER RUN FASHION" in four of her last five "adventures," including a "POWER RUN WIN" in her last start.
PRESQUE ISLE DOWNS
RACE #3: The 9-2 shot, #1A GHOST FLOWER, is the overall speed leader in this allowance field tonight sprinting at 6.0 furlongs on the "dirt."
Ultra Longshot Angles
NOTE: The entries listed below have been "found" utilizing TrackMaster's fantastic new product Ultra Angles ... I have utilized this product to scan EVERY TRACK in North America for entries today meeting the following 3 criteria:

a. Odds are at least, 4-1 or greater
b. The entry must be the TOP POWER RATED entry in the field
c. The entry must also have the BEST SPEED in this field for today's distance and surface!

Fort Erie - Race #7 - 4:53PM - #4 ROYAL GREATNESS 5/1
Finger Lakes - Race #7 - 3:52PM - #1A E. SCHIFTY 6/1

NOTE: Listed Post Times are given in the local time zone of the track.

CHECK OUT THIS SOFTWARE TO FIND RICK'S "POWER PUPS!"
---
NOTES ON CLASS: The TrackMaster PLUS software uses a sophisticated mathematical formula to calculate the "class" of a particular race. It is important to note that this calculation is NOT based on purse structure, but on the competitive level of the entries in today's field. Therefore, it is possible (and not uncommon), that an entry may be racing for a higher purse today than in his or her last race, but in a "TrackMaster Sense" is dropping in class, because the overall abilities of the entries in today's race are not as competitive as the entries in his or her last race. The TrackMaster class scale is numeric, and basically ranges from 50 to 100, and is particularly helpful in judging entries that are "shipping" in from another track. In my analysis of a race, I often note that an entry is "dropping in class," or "stepping up in class." Following this statement, you will see a (number in parenthesis). The value of that particular number indicates the degree of the class change. EXAMPLE: "#4 SIN CITY takes a fairly significant class drop (-8) this evening." This indicates that this entry is dropping by 8 TrackMaster Class Levels from his or her last race. It does not necessarily mean that this entry is racing for a lower purse, only racing against a less competitive field.
NOTES: I frequently use the term, "POWER RUN" in this column. It is my terminology for a previous race run at a speed, which if duplicated today, should compete for the winner's circle at the class level in which the entry is competing today. Space requirements do not allow for a thorough discussion of this calculation, however, if you would like a short essay on how the "POWER RUN" is calculated, kindly send me some EMAIL at rneedham1@yahoo.com and I'll send you a copy of my "POWER RUN" file.
---
---
PRO/COLLEGE FOOTBALL ANALYSIS - 2014-2015 SEASON
Yep ... FOOTBALL IS INDEED BACK!!!

Rick is once again ... "dusting off" his SportsMaster for Football Software ... and his "ancient" Windows Machine ... to for the 8th straight year ... to analyze Professional and College Football for the 2014-2015 season. As he has done in the past .. 100% of the monies for his service are given to his former middle school students who attended The Nativity School of Harrisburg (a middle school for poverty level boys) and are now currently in college. Subscription monies last year purchased text books ... calculators ... lab fees ... etc. for his students.

If you would like to receive his weekly reports .. which include his analysis of N.F.L. Football through the Super Bowl, as well as college football analysis (including his 20 page analysis of the 2015 College Football Bowl Games) ... kindly send a check or money order for $175.00 payable to Richard Needham to ...

Richard Needham
7621 Jonestown Road
Harrisburg, PA 17112

Rick Notes:

1. There is no analysis of pre-season N.F.L. Games

2. Weekly reports are sent via email ... usually on Thursday or Friday of each week. Kindly include your preferred email address with your subscription.

3. Unlike other years ... there is no "free analysis" for the first month of the "season" ... emails will be sent when subscription monies have been received.

4. As in the past ... the "subscription rate" will increase weekly as the football season progresses ... when the N.F.L. season begins ... the subscription rate will be $150.00 ... so it is to your "advantage" to "lock up" your subscription before the N.F.L. season begins!

2014-2015 ARCHIVED REPORTS:

"UPCOMING"