RICK NEEDHAM'S BETTER BETTOR
---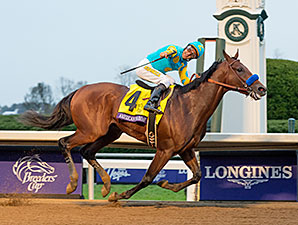 AMERICAN PHARAOH
WINS THE B.C. CLASSIC - EASILY!
---
SUPER BOWL NOTE: RICK WAS "PARLAY PERFECT" ON SUPER BOWL SUNDAY SCORING WITH THE "UPSET" OF THE PANTHERS BY THE BRONCOS ... HE ALSO EASILY NAILED "THE UNDER!" SCROLL DOWNWARDS TO RICK'S SPORTS SECTION TO SEE HIS ANALYSIS OF THE SUPER BOWL! AQUEDUCT RACE TRACK (OZONE PARK, NEW YORK) THURSDAY, FEBRUARY 11, 2016 A bill that would provide a tax break for Kentucky's horse industry advanced Feb. 10, when the Kentucky House Agriculture Committee unanimously approved HB 112. Introduced by Rep. Mike Denham, HB 112 will provide exemption from state sales tax for feed, supplies, and equipment used to raise and care for horses, equivalent to the tax policy for other agriculture animals. "On behalf of Kentucky's equine economy, I would like to express sincere appreciation to members of the committee for the strong message of support they sent to Kentucky's signature industry today," said Kentucky Equine Education Project executive director Joe Clabes. "We owe a debt of gratitude to Rep. Denham and chairman (Tom) McKee in particular for their leadership on this issue." Appearing with Denham and the Kentucky Thoroughbred Association representative David Switzer, Clabes urged members to consider the increased revenue such a change in tax policy would generate for the state from increased equine activity and not just focus on the revenue lost from not collecting the tax. "The Equine Sales Tax Equity Task Force members and the industry's grassroots supporters also played an important role in this process" added Clabes. "Many of the Committee members referenced receiving messages of support for HB 112 from their constituents, clearly expressing their support for the horse industry and unity in their desire see the industry treated fairly." Because of its budgetary implications, the bill would need to be approved by the House Appropriations and Revenue Committee before it could advance to the full House for a vote. Unlike the Agriculture Committee, which focuses more on matters of agriculture policy, the House A&R Committee will likely place greater emphasis on the fiscal impact of the legislation. In order to build on the momentum of today's Committee vote, KEEP will continue to help supporters contact their legislators through its online advocacy center.
RACE #6 - AQUEDUCT - 3:20 PM EASTERN POST
8.0 FURLONGS WINTERIZED INNER DIRT TRACK THREE YEAR OLD FILLIES MAIDEN SPECIAL WEIGHT $60,000.00 PURSE

#6 THUNDERING SKY
#7 SMILE BIG
#4 CLAIR DE LUNE
#3 WEMBLEY

#6 THUNDERING SKY qualifies as a TrackMaster PLUS "PowerPony," takes a class drop (-7), and is the overall speed and pace profile leader in this field racing at the mile distance on the dirt, and has hit the board in "POWER RUN FASHION" in each of her three career starts to date. She's a granddughter of Unbridled's Song, out of hte Sky Mesa lineage, whose progeny have hit the board in 44% of nearly 7,000 combined lifetime starts to date. For your information folks, Sky Mesa also qualifies for my Three Star Sire list ... if you would like a description of the rigid rules that I "employ" to make this list, kindly send me an email ... and yes ... this list, and the "rules" are indeed free! The morning line favorite is #7 SMILE BIG has hit the board in two of her three career starts to date, missing a "Circle Trip" in her last start by just a "photographed neck" at the wire in a determined attempt to earn her "diploma."
---
RACING NEWS: The National Museum of Racing and Hall of Fame's executive committee has unanimously approved a measure to designate retired jockey Ramon Dominguez as eligible for Hall of Fame consideration beginning in 2016. Dominguez, who announced his retirement in June 2013, suffered a career-ending injury at Aqueduct Racetrack in January of 2013. Hall of Fame procedures require jockeys to be licensed in North America for 20 years to be eligible for consideration, but the Museum's executive committee has the option of waiving the requirement at its discretion based on special circumstances. Jockeys who do not satisfy the 20-year requirement must typically wait five calendar years before they become eligible to be considered for the Hall of Fame. The requirement was waived in the case of Dominguez—who rode for 18 years (1996 through 2013) in North America—because he would have satisfied the requirement in 2015 and would have been eligible for Hall of Fame consideration beginning this year if not for the career-ending injury. "We appreciate the sensitivity of the Executive Committee and Museum director Chris Dragone in responding to his unusual circumstance," said Edward L. Bowen, chairman of the Hall of Fame nominating committee. "They all recognize that this is an appropriate use of the discretion given to the executive committee." Dominguez, a native of Caracas, Venezuela, won the Eclipse Award for outstanding jockey in 2010, 2011 and 2012. He led all North American riders in earnings in each of those years (setting a single-year record for North American earnings in 2012 with $25,639,432, since surpassed by Javier Castellano). Dominguez also led all jockeys in wins in 2001 and 2003 and finished second on seven other occasions. According to Equibase statistics, Dominguez finished his career with 4,985 wins (23 percent) from 21,267 mounts and earnings of $191,620,277. He ranks 17th all time in earnings and 32nd in wins. The National Museum of Racing's Hall of Fame nominating committee will meet later this month to review the preliminary candidates and select the finalists for the Hall of Fame voting panel. The Hall of Fame finalists will be named in March and the inductees will be announced in April. The 2016 Hall of Fame induction ceremony will take place Aug. 12 at 10:30 a.m. at Fasig-Tipton in Saratoga Springs, N.Y.
---
This Web Site Is --- "POWERED BY TRACKMASTER!"
---
RICK'S HANDICAPPING VIDEOS
THOROUGHBRED RACING
---
HARNESS RACING
---
GREYHOUND RACING
---
RaceAnalyser Software
Wagering Mathematics Software
Rick has added these software products to his handicapping arsenal! They use TrackMaster Past Performance Files! Check 'em out!

RaceAnalyser Thoroughbred Handicapping Software
---
Disclaimer: Every attempt has been made to insure accuracy, however since this report is prepared and typed by hand, errors, including typographical and numerical, can be made. It is the responsibility of the end user to "cross check" these selections against the actual entries and program numbers.
---
BRAZILIAN "BRAHMA BEER LONGSHOTS" - FEBRUARY 11, 2016
CHARLES TOWN
RACE #1: #6 SHE'S GRUMPY, a 4-1 shot, takes a class drop, and comes off a "POWER RUN SHOW" finish in her "first asking."
TURFWAY PARK
RACE #3: The 5-1 shot, #2 MACSETT, qualifies as a TrackMaster PLUS "Power Pony," and comes off a "POWER RUN WIN: to break his maiden in his "first asking."
---
Ultra Longshot Angles
NOTE: The entries listed below have been "found" utilizing TrackMaster's fantastic new product Ultra Angles ... I have utilized this product to scan EVERY TRACK in North America for entries today meeting the following 3 criteria:

a. Odds are AT LEAST 4-1
b. The entry must be the TOP POWER RATED entry in the field
c. The entry must also have the BEST SPEED in this field for today's distance and surface!

Delta Downs - Race #3 - 6:36PM - #6 BAYOULAND KELLEY 9/2
Delta Downs - Race #4 - 7:04PM - #2 RING NECKED 4/1
Delta Downs - Race #9 - 9:24PM - #6 DECLAN'S GOLD 6/1
Fair Grounds - Race #1 - 1:25PM - #3 LUV IT UP 9/2

NOTE: Listed Post Times are given in the local time zone of the track.

CHECK OUT THIS SOFTWARE TO FIND RICK'S "POWER PUPS!"
---
NOTES ON CLASS: The TrackMaster PLUS software uses a sophisticated mathematical formula to calculate the "class" of a particular race. It is important to note that this calculation is NOT based on purse structure, but on the competitive level of the entries in today's field. Therefore, it is possible (and not uncommon), that an entry may be racing for a higher purse today than in his or her last race, but in a "TrackMaster Sense" is dropping in class, because the overall abilities of the entries in today's race are not as competitive as the entries in his or her last race. The TrackMaster class scale is numeric, and basically ranges from 50 to 100, and is particularly helpful in judging entries that are "shipping" in from another track. In my analysis of a race, I often note that an entry is "dropping in class," or "stepping up in class." Following this statement, you will see a (number in parenthesis). The value of that particular number indicates the degree of the class change. EXAMPLE: "#4 SIN CITY takes a fairly significant class drop (-8) this evening." This indicates that this entry is dropping by 8 TrackMaster Class Levels from his or her last race. It does not necessarily mean that this entry is racing for a lower purse, only racing against a less competitive field.
NOTES: I frequently use the term, "POWER RUN" in this column. It is my terminology for a previous race run at a speed, which if duplicated today, should compete for the winner's circle at the class level in which the entry is competing today. Space requirements do not allow for a thorough discussion of this calculation, however, if you would like a short essay on how the "POWER RUN" is calculated, kindly send me some EMAIL at rneedham1@yahoo.com and I'll send you a copy of my "POWER RUN" file.
---
---
2015-2016 ARCHIVED FOOTBALL REPORTS:
Rick Needham's Football Report 2015-2016 Season
Week Ending - February 7, 2016
THE SUPER BOWL
PANTHERS (MINUS 6½) VS. BRONCOS

Sunday, February 7, 2016 at 6:30PM EST
Santa Clara, California - TV: CBS
Over/Under Total: 47.0

Rick's Overview:The Carolina Panthers meet the Denver Broncos in Super Bowl 50 at Levi's Stadium on February 7. It is a matchup of the top two seeds from each conference. Carolina, on the strength of winning 17 of 18 games this season, is the favorite. But a salient case can be made for either team. Let's take a look at Super Bowl 50 and see what we can come up with. Carolina has been impressive in the postseason, which followed a 15-1 regular season. They smashed two pretty good defenses with wins over Seattle and a 49-15 smashing of Arizona in the NFC Title Game. Since head coach Ron Rivera came into town, Carolina has always been a team with a nasty defense, but they added a lot to their offense this season and were actually the league's top-scoring offense this season. And they've been pretty consistent in terms of scoring, surpassing 31 points in 7 of their last 8 games. Carolina has a quarterback in Cam Newton who has morphed into perhaps the most legit dual-threat player at that position. Between him and Jonathan Stewart, they run the heck out of the ball. Carolina has a pretty nice aerial attack, despite having only a good tight end in Greg Olsen and a bunch of role guys at wide receiver. This offense gets the most out of what they have, bolstered by a stout and playmaking defense that can have a big impact on the results of games. Denver has a Hall of Fame quarterback in Peyton Manning who might be facing his last game. He missed a lot of time, but came back in the second half of week 17 to lead Denver past the Chargers, before notching a pair of playoff wins to get to his 4th Super Bowl. This team was in the Bowl two years ago and there's a lot of big-game experience on that sideline. Meanwhile, Carolina's sideline is filled with guys who will be seeing this for the first time.

Denver managed to become a top team in what was really a transitional season, as they moved away from a quarterback-centric approach, putting more responsibility in the hands of the run-game and a defense that became the top-rated unit in the game. On one hand, their offense seemed a lot flatter this season, but the results speak louder than anything, as they're in the Super Bowl. A big assist goes to what is really a good Denver defense that looks to have peaked at the right time. Carolina faces a major challenge with this Denver defense. And when looking at their schedule, it's not like the Panthers beat a ton of good defenses this season. In the playoffs, Pittsburgh and New England both struggled against this Denver defense. The Denver pass-rush, led by Von Miller, could very well become a major factor in this game. The Denver defense was the top-rated pass-defense and there are numerous matchup issues for Carolina heading into this game.

Carolina was excellent this season at 15-1 and 2-0 in the playoffs. But when something looks too good, we are forced to take a peek around the still and see if we can't find another way of looking at it. Let's look at Carolina away from home for a second. In the last five weeks of the regular season, they had three road games—beating sub-.500 teams like the Saints and the Giants each by a field goal, before losing to Atlanta by 7. We've seen them romp at home in the playoffs as the NFC's top-seed, but let's not forget that things can be different when taking the show on the road and there's ample evidence that Carolina could be a diminished force away from Charlotte. When a team like Carolina wins 17 of 18 games and covers 13 spreads, it might be hard to make the case that they're overrated. But when scanning their schedule, it is striking how many soft teams they faced. And even the better teams they beat weren't playing very well at the time they met the Panthers. Carolina deserves credit for having only one really bad game the whole season, but there is some variance in how they play at home, as opposed to on the road.

We hear people talk about experience, without really being clear on how that will resonate in a game. With Peyton Manning, the Broncos benefit from having one of the sharpest football minds in the sport actually on the field. His arm isn't what it used to be and there's no guarantee he will even make it through 4 quarters against this hard-hitting and difference-making Panthers' defense. But there is no one better at identifying weaknesses in opposing defenses and in a game of this magnitude, having a calm-thinking veteran like Manning with his off-the-charts football IQ behind center can be invaluable. It's almost like having a coach on the field. Since coming back in week 17, Manning has actually looked pretty good, even more so against New England in his last game, which showed that he might be rounding into shape at just the right time. The time off he had during the season can start paying off now. Rick's Bottom Line: Well folks ... my "gut" feeling is that this game could be a "blowout" in favor of Carolina .. terms like "overrated" and "underrated" are thrown around a lot, but they might apply to this game. People see Denver barely scraping by with a quarterback on his last legs and it causes them to make rash conclusions about their championship viability. Meanwhile, when the public looks at Carolina, they see a team with a great record, coming off two pretty conclusive postseason victories. It creates an image of Carolina being vastly superior and that might have little or no connection to reality. Not to impugn Carolina, which is a good team in all phases, but I look for the championship mettle, experience, and knowledge of Manning to play a big role in this game, with Denver's better defense keeping Carolina in-check. And, my "computer analysis" using SportsMaster Sofware shows Denver to "keep it close!" I'll TAKE DENVER to beat the spread ... hint ... wait to the last minute folks ... this line may indeed CLIMB UPWARDS ... especially on the off-shore "books!"
---