RICK NEEDHAM'S BETTER BETTOR
---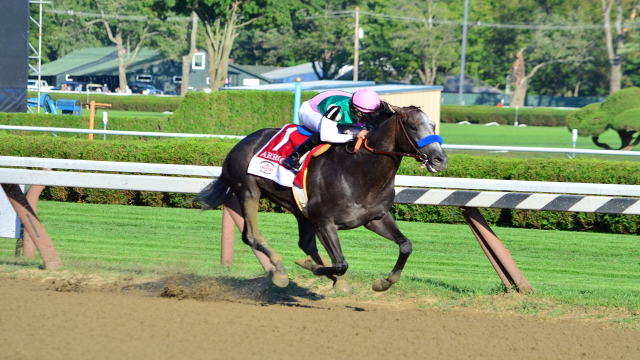 ARROGATE
WINS THE TRAVERS
IN RECORD TIME!!!
2016-2017 FOOTBALL REPORT INFORMATION IS NOW AVAILABLE - SCROLL DOWNWARD TO RICK'S "SPORT SECTION" FOR DETAILS! COLLEGE FOOTBALL BEGAN FRIDAY NIGHT - RICK'S SUBSCRIBERS HAVE RECEIVED HIS REPORT ON THE HAWAII X CALIFORNIA GAME BEING PLAYED IN AUSTRALIA! FULL COLLEGE FOOTBALL SCHEDULE BEGINS THIS WEEKEND!
SARATOGA RACE COURSE (SARATOGA SPRINGS, NEW YORK) WEDNESDAY, AUGUST 31, 2016
Suffolk Downs will host the third and final of three weekends of live racing Sept. 3-4 for its 2016 racing season. The weekend highlight is the$75,000 Steve Pini Memorial Stakes on the 11-race card Saturday, The Steve Pini Memorial Stakes is a 1 1/16-mile turf race for fillies and mares. The black-type event has drawn a field of 11 and features some of the top trainers from across the country, including Christophe Clement, Mark Casse, and Bill Mott. The race is named in honor of Steve Pini, a third-generation Suffolk Downs employee and longtime track superintendent who passed away last year. There will also be a dedication in the paddock in his memory before the start of racing on Saturday. Over the course of the weekend at the East Boston, Mass. track, there will be three stakes restricted to horses foaled in the state: the John Kirby Stakes, the Massachusetts Stallion Stakes, and the Thomas F. Moran Stakes. Each offers a purse of $75,000 and is a showcase for the Massachusetts Thoroughbred breeding industry. "We are thankful that we have been able to continue the tradition of racing here during this transition phase as we look toward the future development of the property and we look forward to working with the local horsemen and women, the local breeding farms and the Massachusetts Gaming Commission to continue racing again next year," said Chip Tuttle, Suffolk's chief operating officer. Suffolk Downs has also, as it did last year and for the races in July and August, reduced the takeout to 15% on all wagers. The takeout rate also has been lowered from 26% on all multiple bets. The reduction is from 19% on straight win, place, and show bets. Post time is 12:35 p.m. EDT and gates open at 11:00 a.m.
RACE #9 - SARATOGA RACE COURSE - 5:18 PM EASTERN POST
The With Anticipation Stakes
8½ FURLONGS INNER TURF GRADE II TWO YEAR OLDS STAKES $200,000.00 PURSE

#7 KEEP QUIET
#3 MY BO CHOP
#2 MADE YOU LOOK
#4 ARDMORE BAY

This race for 2-year-olds on the turf, the With Anticipation was inaugurated in 2005 and named in honor of the gelding who won five Grade 1 races and more than $2.6 million for Hall of Fame trainer Jonathan Sheppard. A gray son of Relaunch owned by George Strawbridge, With Anticipation made his first start as a 2-year-old in 1997, but didn't hit his best stride until 2001, when he began campaigning primarily on the grass. The following year, at age 7, he won three straight Grade 1 events, the United Nations Handicap, his second straight Sword Dancer Invitational, and his second straight Man o' War. He was retired in 2004. Here in the 12th running of this graded stakes test, #7 KEEP QUIET, a French bred entry, is the speed and pace profile leader in this field, and comes off a "POWER RUN WIN" to break his maiden in his last start, which was just the 3rd race of his young career to date. #3 MY BO CHOP, who was also bred in France, has hit the board in "POWER RUN FASHION" in two of his respective three career starts to date, including a "POWER RUN WIN" to break his maiden in his 2nd race back. Jockey Javier Castellano and Trainer Todd Pletcher send him to the post ... they've hit the board with 55% of their entries saddled as a team to date.
---
RACING NEWS: The most famous resident of Los Alamitos will be honored on "California Chrome Day'' Sept. 10 at the track. In conjunction with a recent proclamation by officials from the city of Cypress, Calif., Los Alamitos will pay tribute to the richest racing Thoroughbred in North American history on the first Saturday of the Los Angeles County Fair at Los Alamitos meet. A video montage will be shown at Los Alamitos featuring highlights of California Chrome's career and there will be a special presentation by Cypress city officials to members of the 5-year-old horse's team, including trainer Art Sherman. There will not be an appearance by California Chrome, who won the Grade I, $1 million TVG Pacific Classic Aug. 20 at Del Mar in his most recent race. Additionally, there will be a plush toy giveaway—one per paid admission to the first 2,500 on-track patrons. California Chrome, a son of Lucky Pulpit who has 10 graded stakes victories, is expected to make his next start in the Grade I, $300,000 Awesome Again Stakes (gr. I) Oct. 1 at Santa Anita Park. The Los Angeles County Fair meet at Los Alamitos begins Thursday, Sept. 8 and continues through Sunday, Sept. 25.
---
RICK'S HANDICAPPING VIDEOS
THOROUGHBRED RACING
HARNESS RACING
GREYHOUND RACING
---
RaceAnalyser Software
Wagering Mathematics Software
Rick has added these software products to his handicapping arsenal! They use TrackMaster Past Performance Files! Check 'em out!

RaceAnalyser Thoroughbred Handicapping Software
---
Disclaimer: Every attempt has been made to insure accuracy, however since this report is prepared and typed by hand, errors, including typographical and numerical, can be made. It is the responsibility of the end user to "cross check" these selections against the actual entries and program numbers.
---
BRAZILIAN "BRAHMA BEER LONGSHOTS" - AUGUST 31,2016
FINGER LAKES
RACE #2: #5 NOON, a 4-1 shot, takes a class drop (-10), and has hit the board in two of her last three outings, posting an apparent, maiden-breaking "POWER RUN WIN" in her 3rd race back, however the stewards at Turfway Park noted a bumping incident in the deep stretch, resulting in that dreaded DQ, leaving her in the maiden ranks today.
INDIANA DOWNS
RACE #1: #1 HOLYHOOT is 5-1 in the morning line, takes a class drop (-3), is the speed leader in this field, and has hit the board in "POWER RUN FASHION" in five straight, including back-to-back "POWER RUN WINS" in her 3rd and 4th races back.
---
Ultra Longshot Angles
NOTE: The entries listed below have been "found" utilizing TrackMaster's fantastic new product Ultra Angles ... I have utilized this product to scan EVERY TRACK in North America for entries today meeting the following 3 criteria:

a. Odds are AT LEAST 4-1
b. The entry must be the TOP POWER RATED entry in the field
c. The entry must also have the BEST SPEED in this field for today's distance and surface!

Indiana Downs - Race #7 - 4:53PM - #2 STURDY ALLAN 10/1
Indiana Downs - Race #8 - 5:21PM - #8 VOLT 15/1
Indiana Downs - Race #9 - 5:49PM - #2 LEAVE YOU STREAKIN 6/1
Louisiana Downs - Race #1 - 3:15PM - #5 SEATTLE DIVA 15/1

NOTE: Listed Post Times are given in the local time zone of the track.

CHECK OUT THIS SOFTWARE TO FIND RICK'S "POWER PUPS!"
---
NOTES ON CLASS: The TrackMaster PLUS software uses a sophisticated mathematical formula to calculate the "class" of a particular race. It is important to note that this calculation is NOT based on purse structure, but on the competitive level of the entries in today's field. Therefore, it is possible (and not uncommon), that an entry may be racing for a higher purse today than in his or her last race, but in a "TrackMaster Sense" is dropping in class, because the overall abilities of the entries in today's race are not as competitive as the entries in his or her last race. The TrackMaster class scale is numeric, and basically ranges from 50 to 100, and is particularly helpful in judging entries that are "shipping" in from another track. In my analysis of a race, I often note that an entry is "dropping in class," or "stepping up in class." Following this statement, you will see a (number in parenthesis). The value of that particular number indicates the degree of the class change. EXAMPLE: "#4 SIN CITY takes a fairly significant class drop (-8) this evening." This indicates that this entry is dropping by 8 TrackMaster Class Levels from his or her last race. It does not necessarily mean that this entry is racing for a lower purse, only racing against a less competitive field.
NOTES: I frequently use the term, "POWER RUN" in this column. It is my terminology for a previous race run at a speed, which if duplicated today, should compete for the winner's circle at the class level in which the entry is competing today. Space requirements do not allow for a thorough discussion of this calculation, however, if you would like a short essay on how the "POWER RUN" is calculated, kindly send me some EMAIL at rneedham1@yahoo.com and I'll send you a copy of my "POWER RUN" file.
---
Do you want some handicapping tips? Select an "essay" below, and I'll return some comments to you via email!

Kindly enter Your Name:
Bouncers
Power Run/PowerPonies
Maiden Starters
LASIX Runners
Three Star Sires
The Value of Class
Reading PS's
Exotic Wager BOXING
Aqueduct's Inner Track
Down and Dirty Quick Pick Longshots
How to qualify for The Breeders' Cup
The Psychology of Pari-Mutual Wagering

---
RICK'S 2016-2017 FOOTBALL ANALYSIS
Well folks ... the 2016-2017 Football Season is rapidly approaching, and Rick is now accepting "subscriptions" for his analysis of the upcoming college and N.F.L. seasons ...for the 14th consecutive year!

Some comments ...

Rick does not handicap pre-season N.F.L. games

Rick uses a "personally archived version" of the "SportsMaster for Football" software product to analyze weekly college and professional games ... this software product is no longer being sold by TrackMaster/SportsMaster

Depending on schedules, and "line changes," weekly reports are usually e-mailed to subscribers on Thursday or Friday of each week.

SportsMaster for Football Software is a database requiring "data" ... Rick's analysis improves significantly as the season progresses, as the resulting "data points" progress and increase.

A subscription to Rick's analysis not only includes his N.F.L selections through the "Super Bowl" .. .but also his complete analysis of ALL College Bowl Games, which last year resulted in a 73% winning result!

Unlike other "pundits" that offer "discounts" as the season progresses ... Rick's reports increase in price weekly .. so it is to your advantage to subscribe early!

To subscribe ... send an email to Rick to his email address noted below, to indicate your interest to subscribe.

Then send a check for $125.00 to ...

Rick Needham
7621 Jonestown Road
Harrisburg, PA 17112

Your weekly reports will be emailed to you when your check "clears!"

EMAIL RICK TO SUBSCRIBE FOR THE SEASON! : rneedham1@yahoo.com GOOD LUCK THIS SEASON - "BET WITH YOUR HEAD - NOT OVER IT!
ARCHIVED REPORTS - 2016-2017 SEASON
HAWAII AT CALIFORNIA (MINUS 18.0)
Date: Friday, August 26
Game Time: 10:00 pm ET
Venue: ANZ Stadium, Sydney, Australia
Network: ESPN

The college football season "kicks off" on Friday night ... not certain why ... from Sydney, Australia!

From The Golden Bears' Sideline ... new starting quarterback Davis Webb should have about 19 days to throw. The new Hawaii coaching staff is switching up defensive styles a bit to go with more of an attacking scheme – but all new coaches try to do that. The problem is that they don't quite have the personnel to do much about it. The front line doesn't have enough difference-makers or pass rushers to keep Webb from bombing away at will. Expect the Bears to come up with at least 400 yards through the air right out of the gate, if for no other reason than to show there's life after Jared Goff.

From "The Rainbows' Perspective ... time of possession never seems to matter to a Sonny Dykes offense, but Hawaii might have the potential to control the clock and the game a little bit by running effectively. When this whole new era of head coach Nick Rolovich football works, it'll be with a high-end passing attack that's not going to be there right away. Ikaika Woolsey is more of a baller than a bomber, but he should be able to move the chains a bit with his legs. To help settle things down and keep the defense off the field, the Warriors will try to rely on their solid stable of veteran backs working behind an experienced line. The Cal defensive front is fine, but it's being reworked and it's hardly anything special. Okay, okay, okay, so Rolovich is going to come out winging it, but if and when that doesn't work, the Warriors can control the game by getting physical.

Rick's Bottom Line: Welcome to the new world of Davis Webb. Hawaii will have its moments on offense when it makes something splashy happen, and it has too many veterans to go completely into the tank, but the defense won't have any answers for the high-octane Bears once the machine gets rolling. The Aussies will have some fun with this one with the two teams combining for 1,000 yards of offense. Cal will have more.

I'll TAKE CAL to win and cover the spread ... probably in the 45-20 range!